Trinamic launches cost efficient stepper motor servo controller module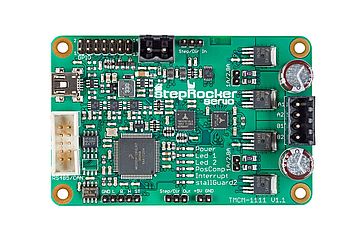 TRINAMIC Motion Control extends its portfolio of TMCM embedded motor control modules. Following to the success of the TMCM-1110-StepRocker single axis board, the TMCM-1111-StepRocker-Servo is designed to be as easy to use as its sibling, but with additional closed-loop stepper motor servo functionality.
The new board drives 2-phase bipolar stepper motors from 500mA to 1.0A RMS or from 1.1A to 2.8A RMS selectable by jumpers. Utilizing Trinamic's highest performance stepper motor driver IC for external MOSFETs TMC262 and the dedicated closed-loop motion controller TMC4361, the TMCM-1111 is a cost- and energy-efficient stepper motor servo controller for stepper motors with a/b/n quadrature encoders. Ideal for liquid handling and handling sensitive goods, the S-ramp controller allows for precise and fast positioning.
"If you are looking for an energy efficient drive you are typically looking at servo drives. But, as stepper motors have a considerably higher torque than servo motors of comparable size at low speeds, they often are the solution to get rid of a costly and likewise inefficient gearbox." Explains Trinamic's CEO Michael Randt. "With our new stepper motor servo drives, you get the best of both worlds. The efficiency of a servo at the cost of a stepper motor."
The TMCM-1111 can be controlled via RS485 or USB serial interfaces (CAN retro-fit option) and is designed as open source hardware – schematics and layout are available for download. A simplified code project for the NXP Kinetis microcontroller including Trinamic's TMCL protocol can be downloaded as well.
The TMCM-1111 is priced at USD 90 in single quantities. The credit card-sized board has dimensions of 85mm x 55mm. The board is available for shipment from November 2017.
Visit the TMCM-1111 product page
Source: https://www.trinamic.com/company/news/news-detail/trinamic-launches-cost-efficient-stepper-motor-servo-controller-module/
Subscribe
Stay up to date with industry and supplier news!
Browse