Top Benefits of 100-Ball Ball Grid Array (BGA) Packaging
Thursday, October 23, 2014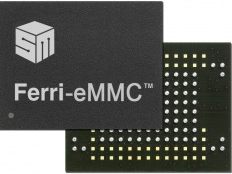 Ball grid array (BGA) packages are a surface-mount or chip carrier packaging for integrated circuits and mounting devices like microprocessors. BGA packages offer higher pin density, lower thermal resistance, and lower inductance than other types of packages. This means more interconnection pins and increased performance at high speeds as compared to dual in-line or flat packages.
BGA is not without its disadvantages, though. The solder balls are unable to flex in the same manner as longer leads, and the package density can make it difficult to inspect for faults or other aberrations. Additionally, reliable soldering equipment for large production runs can be very costly.
Disadvantages aside, 100-ball BGA packaging is still an attractive option for many applications. Silicon Motion, a leader in the development of microcontroller ICs for NAND flash storage devices and specialty RF ICs for mobile devices, leverages 100-ball BGA packaging in their Ferri-eMMC memory solutions.
Silicon Motion's 100-ball BGA Package Ferri-eMMC
Silicon Motion's Ferri-eMMC is optimally designed for a number of embedded applications. Ferri-eMMC is fully compliant to the industrial standard eMMC/JEDEC 4.5 protocal. With a 100-ball BGA, 1.0mm pitch package design, Ferri-eMMC provides for flexible PCB design and low-cost manufacturing.
The Ferri-eMMC also includes high-efficiency error correction with an advanced hardware BCH error correcting code (ECC) engine and StaticDataRefresh™ and EarlyRetirement™ technologies to ensure data reliability; advanced global wear leveling through even distribution of program/erase cycles across all NAND flash chips to maximize the usage lifespan with low Write Amplification Index (WAI); and robust data protection through advanced system level protection against unstable power, software/hardware write protect options, multiple user data security zones, software/hardware secure erase function, and PowerShield™ and DataPhoenix™ technologies prevent data corruption in case of sudden power loss.
Features and Advantages of the Ferri-eMMC 100-ball BGA Package
100-ball BGA

JEDEC industry-standard mechanical ball pattern
Easy PCB traces routing and layout
High PCB/SMT yields
Excellent long-term reliability
Low ball count reduces PCB cost

1.00 mm ball pitch / 0.45 mm ball diameter

Easy PCB trace routing and layout
Reduced cost of PCB trace routing and design
Reduced number of PCB layers
Better thermal dissipation
Higher PCB yield
Excellent PCB reliability

Compatibility

Usable in most industry grade solutions
Package qualified by OEMs
Compatible with all 100B industry grade solutions
Ready to implement Silicon Motion's 100-ball BGA packaging into your application? Call Symmetry Electronics at (310) 536-6190, or contact us online.