Top 5 Wearable Applications | Symmetry Blog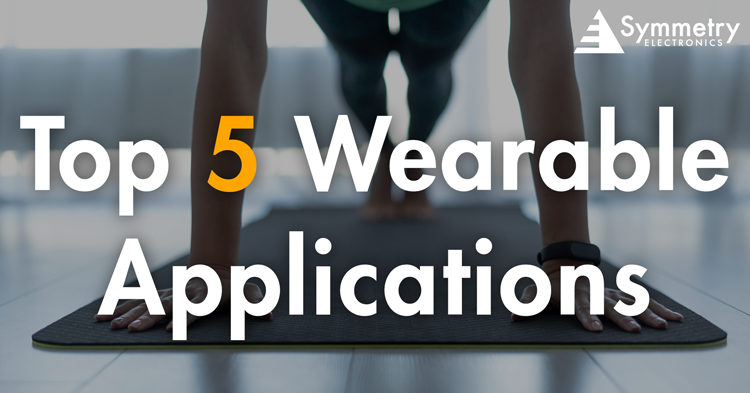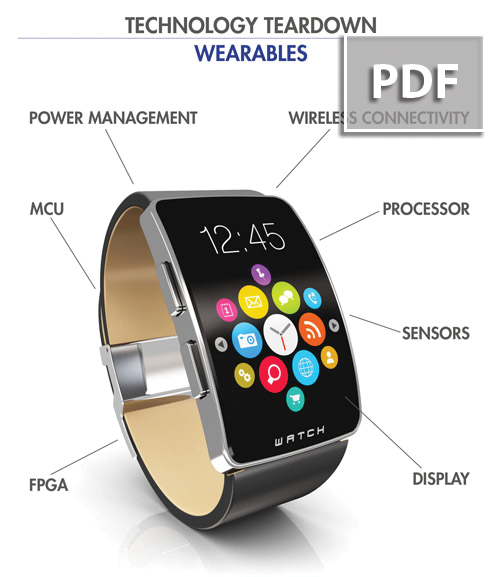 Wearables, or wearable technology, involves smart sensors that come in contact with the body to deliver real-time data regarding movements or biometrics that are often reported to a smartphone via Bluetooth. According to Research and Markets, the global market for health and fitness trackers is expected to reach $5 billion by 2025.
Wearables include accessories that can be worn, wearable technology that is embedded in clothing, or even sensors that can be implanted in the body. Common devices include smart watches, smart glasses, fitness and wellness devices, smart clothing, earphones, body monitors and wearable cameras.
Wearables such as the Apple Watch, Apple AirPods and Fitbit are all now considered to be common consumer electronics. Expanding from consumer lifestyle products, various new industries such as healthcare, defense, fitness and sports, and enterprise and industrial have all discovered exponential benefits in utilizing this powerful technology.
Consumer Electronics: Common consumer wearables include smart watches like the Apple Watch, smart rings like the Oura, smart glasses like Snap Spectacles, and fitness bands like the Fitbit. Many of these products have one thing in common–they all have features to track health. Personal health tracking is becoming increasingly popular for consumers. Users want to be able to track their physical movements, whether it be to count steps, during a workout, or while they are asleep. Many devices are capable of tracking heartrate, body temperature, monitoring sleep, and tracking GPS location. While others function as a mini smartphone, with the ability to receive phone call, email, text message and social media notifications. Smart glasses are becoming more commonplace, with the ability to provide a VR experience, or function as a hands-free smartphone with the ability to browse the internet, take photos, navigate a map and more all via voice activation.
Healthcare: In addition to consumers regulating their own health via wearables, the healthcare industry has also adopted wearables to save time, money and lives. Patients can now wirelessly share real-time data with their physician via a smart watch, fitness tracker, ECG monitor, blood pressure monitor, or biosensor to allow for timely support and patient prioritization. Quarantined or isolated patients can be monitored remotely to minimize physical interaction.
Military Defense: Smart watches, fitness trackers, smart clothing, and head-mounted displays are all being used in the military to track vitals and location, allow for greater accuracy and awareness, and increase safety while reducing errors. Many of these defense products are designed to be discrete and compact. Wearables are even being used with military animals to track their location and health.
Fitness and Sports: Fitness wearables are among some of the most commonly used wearable technologies. From at home workouts, to competitive sports or Olympic training–fitness wearables have been developed to track steps, heart rate, blood oxygen, GPS location and more. Athletes can train effectively and increase performance by monitoring real-time insights. Working in conjunction with fitness wearables, is the up and coming smart sports equipment. Balls, bats, helmets and more are being manufactured with compact smart sensors to track movement and report performance in real-time.
Industrial Manufacturing: Warehouses are utilizing wearables to track vitals, safety and location of workers, while increasing efficiencies and minimizing error. Warehouse workers are using products such as the Google Glass to provide for a hands-free experience. Workers can follow processes that are displayed in their peripherals, or remotely share their point of view with colleagues for collaboration or quick remediation.
Develop the Next Big Thing
Wearable tech is on the rise for both consumer and industrial applications. Interested in developing the next innovative wearable solution? Take a look at our Wearables Technology Teardown (PDF) that provides guidance in selecting the components you need to develop the next big thing.
We support many other applications. Check out our other Tech Teardowns for additional inspiration and technical guidance.
Subscribe
Stay up to date with industry and supplier news!
Browse