Top 5 Tech Deployments at the 2014 World Cup
Friday, June 27, 2014
This year, the World Cup is going high-tech. Wearables, high-speed cameras, Bluetooth Low Energy (BLE), motion sensors, drones, and other technologies are powering one of the world's most watched sporting events. Let's look at 5 technologies behind the 2014 World Cup.
1. High-speed cameras
FIFA is touting the implementation of the "unhackable" GoalControl, a closed-loop goal line detection system that utilizes seven high-speed cameras around each goal. These cameras can shoot 500 images per second, and can measure the ball's positioning every two milliseconds. 2014 is the first year in which FIFA has allowed the use of a goal detection system.
Looking to build your own? Learn more about storage, Power over Ethernet (PoE), and video encoders, decoders, and transcoders.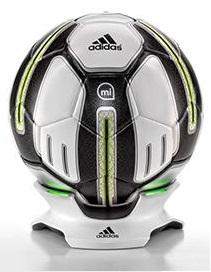 2. Smart watches
The GoalControl system alerts referees to goals scored via a smartwatch that vibrates and reads "GOAL" when the system detects a ball crossing the goal line. The signal is transmitted to all referees' watches in less than a second.
Are you designing wearables? Take a look at BLE, Wi-Fi, cellular, GPS, embedded processors, memory, and storage.
3. Smart ball
Adidas and Nordic Semiconductor have created a smart soccer ball based on Nordic's nRF8001 Bluetooth Smart chip. The ball can transmit statistics regarding trajectory, spin, impact, and time of flight to a smartphone or tablet via BLE connectivity. The ball complies with all Size 5 size and weight regulations.
Kicking around a similar idea? Get started with BLE, accelerometers, and position sensors.
4. "Spy" drones
Before their first game against Honduras, the French team filed a complaint with FIFA alleging that at an unmanned aircraft was being used to spy on a team practice. The drone was identified as a Phantom II autonomous micro-drone with a video camera.
Ready to develop your top secret design? We're your source for Wi-Fi, BLE, GPS, accelerometers, and motors.
5. Social media
The 2014 World Cup is poised to be the biggest sporting event in social media history. In the first week alone, it spurred more social media activity than the Super Bowl, the Academy Awards, and the Winter Olympics combined. Alongside Twitter's dedicated #WorldCup feed, they have implemented "hashflags", which allow users to tweet a World Cup team's hashtag (i.e., #USA or #AUS) to display the nation's flag within the tweet.
A company called PipSports has created a photo app that allows fans to overlay photos taken with real-time information and statistics, including scores, location, teams, and team logos and crests. Photos can then be shared to Facebook or the PipSports stream.
Ready to get social? Check out our selection of cellular, Wi-Fi, BLE, embedded processor, memory, and storage products.
Get into the sporting spirit and design your own application! Call Symmetry at 310-536-6190, or contact us online.