Top 3 Benefits of Pre-Compliance Electronics Testing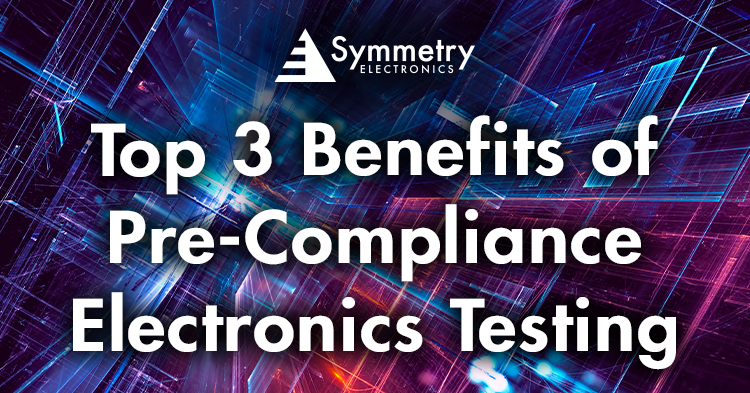 What is Pre-Compliance Electronics Testing?
The road to successful certification of your electronic device is paved with many pitfalls. Certification processes are often complex and vary based on product type and geographic location. All electronic devices are subject to certification testing at official labs to ensure governmental compliance. Pre-compliance electronics testing enables a streamlined route to full device certification through the wide range of benefits it offers.
Often conducted in ideal environments like anechoic chambers, pre-compliance testing is an essential tool for any device that needs to enter official certification labs. It is recommended that developers incorporate pre-compliance device testing throughout their product development cycle or prior to official lab testing to avoid costly re-work and redundancy in submission for final certification. Let's look at the top three benefits of pre-compliance testing measures:
1. Pre-Compliance Electronics Testing Services are Available Throughout Design Cycles
Pre-compliance test and measurement services can be incorporated at the very beginning of prototyping a device, and more importantly, results are indicative of performance in official labs.
2. Developers Can Confidently Enter Official Certification Labs When Equipped with Pre-Test Data
Many times, schedules at official testing labs are often booked or have waiting lists longer than some current semi-conductor lead times. Smaller design houses have the availability and equipment to perform comprehensive pre-compliance testing services that enable developers to confidently enter official labs.
3. Pre-Compliance Testing Saves Time and Resources
One of the most significant benefits of pre-compliance testing is a combination of all its other assets. Since pre-testing is indicative of official lab results and can be implemented at any stage of a design cycle, developers can save time, money, and manpower by mitigating costly redesigns.
Connected Development's Electronic Pre-Test Services
Symmetry Electronics' sister brand, Connected Development, is an esteemed engineering desig n services firm. Also a member of the Exponential Technology Group (XTG), Connected Development is one of the only design houses in the industry that offers pre-compliance electronics testing in their in-house anechoic chamber. Offering a Fixed Price Pre-Compliance Testing Service option, Connected Development is able to provide full transparency on pricing before getting started. With newly expanded testing capabilities, Connected Development is able to provide the following pre-test services:
RF/Antenna performance testing
Passive antenna pattern testing:

Antenna design, matching, or tuning
Performance of antennas throughout the design phase
Verification of an un-licensed spectrum certified modules' antenna gain limits set by the module vendor or the FCC limits for the radio type and service.
PCB trace antenna gain and efficiency measurements

PTCRB/CTIA OTA pre-testing:

TRP and TIS
Custom automated test campaigns

Other performance or quality testing:

Temperature testing
Un-intentional radiated measurement testing
RSE testing for harmonics of the transmitter using the same chamber and automation
Pre-testing for CE Immunity tests
Detailed current consumption analysis
Software quality and robustness testing
Design reliability testing
Environmental and accelerated life testing
For more information on their in-house pre-compliance testing services, contact Connected Development today!