Top 16 Benefits of Edge Computing
In IoT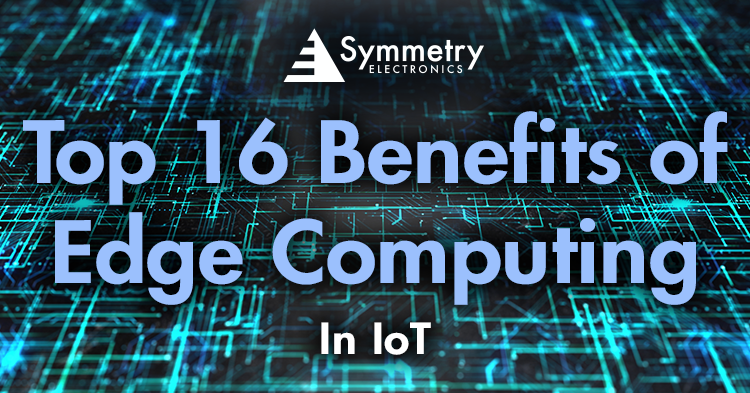 What is Edge Computing?
Originated in the 1990's, edge computing is an innovative type of computation that allows for local processing and storage of data as opposed to routing between a centralized data center. A wide range of benefits are supported when data computation and storage can take place closer to its origin. Edge computing unlocks benefits like:
Enhanced efficiencies
Minimized latency
Improved security
Increased uptime
Decreased costs
What Are Edge Computing Advantages in IoT?
Edge computing presents many advantages in IoT applications implemented in smart city, manufacturing, and retail sectors. Manufacturers can harness edge innovations in IoT sensors to enhance predictive maintenance capabilities, track inventory, and monitor production machinery. Edge-enabled IoT devices can also be used to track inventory in retail environments, as well as optimize logistics and stock. In smart cities, edge computing can be a crucial tool to help organize and manage the immense amount of data created by smart cameras, IoT traffic lights, and connected vehicles.
The Top 16 Benefits of Edge Computing in IoT
Microsoft's paper, IoT Signals, has outlined the top 16 benefits of utilizing edge computing to enhance IoT devices and systems:
Cloud Security – The localized analytic nature of edge computing reduces the number of data transfers sent between a device and a centralized cloud, resulting in enhanced security surrounding the minimally required data in cloud storage.
Device/Asset Security – Again, the close physical proximity of edge computing improves data integrity and offers a more secure solution than cloud computing.
Quality Assurance – Quality assurance is a key feature that developers seek when integrating edge computing in their IoT devices and systems. Edge computing offers continuous reliability in data quality regardless of poor internet or other connectivity issues.
Securing the Physical Environment – Users looking to integrate edge computing in IoT benefit from the enhanced physical security that edge computing offers.
Operations Optimization – Edge computing optimizes IoT systems and device operation.
Employee Productivity –Edge-enabled IoT devices allow for increased uptime in business operations.
Condition-Based Maintenance – The increased insights of edge-enabled IoT devices provides users with the ability to detect and monitor abnormalities in equipment with condition-based monitoring (CBM).
Worker and Workplace Safety – IoT devices like sensors and wearables are key players in improving worker and workplace safety.
Sales Enablement – As a distributed information technology (IT), edge computing supports real-time control over critical data that businesses can utilize to enable increased sales.
Energy Optimization – Edge's comprehensive organization and management of data accrued by IoT devices provides businesses with increased insights that can be analyzed to optimize resources like energy, fuel, and labor.
Sustainability Uses – Edge computing is uniquely qualified to support sustainable applications like smart cities and digital twins.
Supply Chain Management – Edge computing can be applied to IoT systems to automate time-sensitive supply chain processes.
Contact Tracing – As edge computation occurs at the source, its location-based intelligence can be essential in contact tracing applications.
Asset Tracking – A growing number of companies are utilizing edge-enabled IoT data to enable real-time monitoring and visibility of their physical assets.
Personal Comfort – Edge's inherently accessible qualities are an appealing benefit to many users looking to integrate the processing method into their IoT systems.
Space Optimization – IoT devices and systems incur a massive amount of data, edge computing is a helpful method of organizing and optimizing the space the data takes up.
Interested in finding out how to integrate your edge computing in your IoT device or system design? Our knowledgeable team of Applications Engineers are experts in the realms of IoT, IIoT, and wireless technologies and are available to assist developers in edge implementation. Consultation is free and available throughout the design cycle. For more information, contact Symmetry Electronics today!
Resources:
Subscribe
Stay up to date with industry and supplier news!
Browse