The Ultimate Technical Engineering Support Hub | Symmetry Blog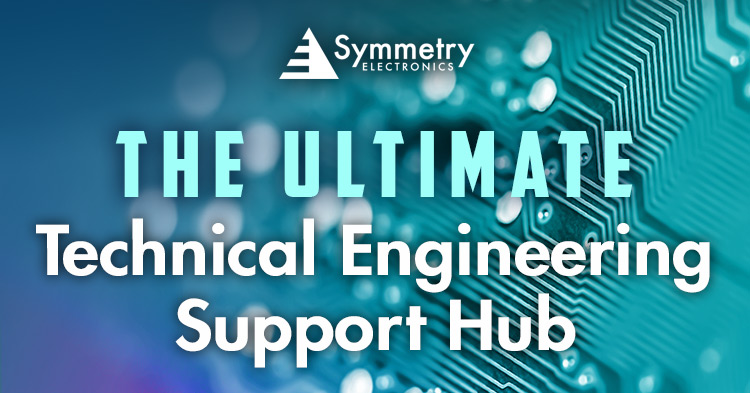 Since 1998, Symmetry Electronics has been a leading global distributor of specialty semiconductors, including wireless connectivity solutions, sensors, and audio-video technologies. Partnering with the world's leading electronic component manufacturers, Symmetry offers top-quality products and the latest technologies available on the market. Specializing in wireless connectivity and Internet of Things (IoT) communication products, Symmetry's extensive product portfolio includes:
Wireless connectivity
Microcontrollers (MCUs)
Environmental and motion sensors
Power over Ethernet (PoE)
SSD & Memory
Clocks & Timing
Audio Components
Power Management
And more!
Engineering Resources at Symmetry
With over 20 years of experience in the industry, Symmetry understands the pain points of product development. That is why we have developed an e-commerce platform that offers design engineers a comprehensive set of resources that will set them up for success–all while saving them time and money. Our engineering resources include:
Detailed data sheets
Market and application information
Product selector guides
In-House Applications Engineers
Symmetry offers technical and engineering support throughout the entire design cycle. Our in-house Applications Engineers offer free support to customers to ensure optimal product selection, to assist developing with evaluation kits and SDKs, and to review schematic and design files. Additionally, as a specialty semiconductor distributor, our technical sales staff work as an extension of our supplier's sales teams, possessing extensive knowledge of the products we offer. Customers can benefit from just-in-time inventory and online volume re-orders including custom pricing.
Access to the Exponential Technology Group
Symmetry is part of the Exponential Technology Group (XTG), a collection of electronic component distributors and design engineering firms that collaborate to enable the development of modern technologies. From automotive and communication applications to IoT, XTG has a growing global footprint and is part of the TTI, Inc. Family of Specialists. XTG comprises of Symmetry Electronics, RFMW, Changnam International, Connected Development, and Paragon Innovations.
Seeking technical and design support for your next project? Contact Symmetry Electronics to get started.
Subscribe
Stay up to date with industry and supplier news!
Browse