The Industry's Hottest AV-over-IP Tech | Symmetry Blog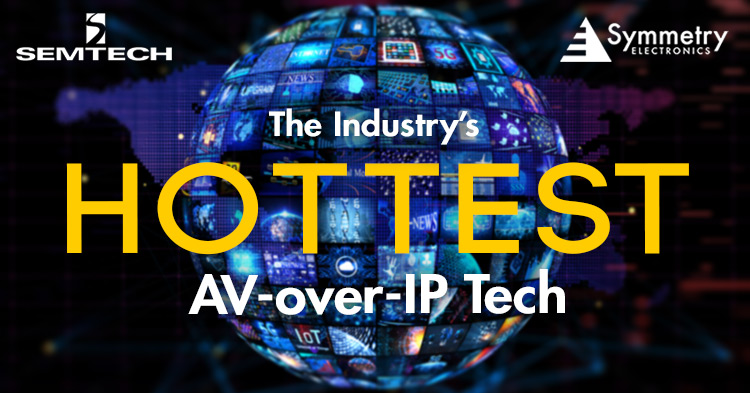 Semtech Corporation, a leading supplier of high-performance analog and mixed-signal semiconductors and advanced algorithms, recently announced the designation of Symmetry Electronics as their exclusive professional audio-video (Pro AV) distributor for North America. Symmetry is now offering the full portfolio of both Semtech's BlueRiver® AVP and AVX lines to support high performance, commercial audio & video applications. Established in 1998, Symmetry Electronics has extensive experience in the Pro AV space and is prepared to offer technical support to guide optimal product selection to ensure compatibility and long-term interoperability for customers.
Semtech BlueRiver AVP - AV over Ethernet
Semtech's BlueRiver AVP is the foundation of SDVoE technology and is one of the world's only chipsets that can transport uncompressed, zero-latency Ultra HD/4K HDR over standard Ethernet. Offering a single programmable system on chip (SoC), the BlueRiver can be used to replace traditional AV/KVM extenders, matrix switchers, video wall controllers, and windowing processors.
Semtech AVX - Point-to-Point Extension
A higher performance and cost-effective alternative to HDBaseT, the AVX product suite offers point-to-point extension of uncompressed quality 4K video, audio, Gigabit Ethernet, and control signals between AV equipment. Additionally, the AVX is the world's only extension chip with built-in scaling and video processing, with bidirectional video support.
Semtech Pro AV Product Key Benefits
A founder of the SDVoE Alliance, Semtech's Pro AV products leverage the SDVoE technology to deliver the following unique benefits:
Pixel perfect uncompressed video up to 4K
Ultra-low latency
Consistent performance via matured 10G Ethernet
Guaranteed interoperability among AV network endpoints through standardized SDVoE
Available SDVoE API simplifies AV signal routing and control
Get Started with Semtech's Revolutionary BlueRiver AVP & AVX Pro AV Products