Need A Great Last Minute Gift Idea? - The DVDO Air3C 60GHz Wireless HD Adapter Can Transmit Full HD Content
The DVDO Air3C connects your audio/video (AV) gear to your TV wirelessly, with the performance that you expect from a cable. Transmit full High-Definition (HD) audio and video, while drawing power from the TV and AV source.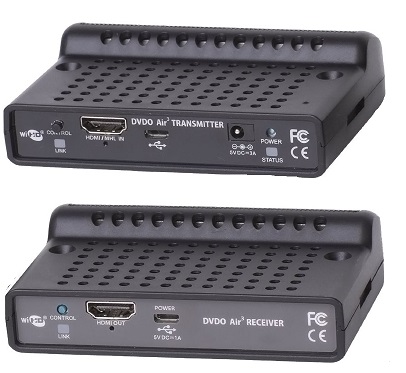 No more clutter
the TV or hide it behind for the ultimate clean look.All the reliability of an HDMI cable without the messy wire. Place the receiver on top of
Free from interference
A 60GHz frequency signal means no interference from other wireless devices in the home.
Easy to install
It's simple to install and configure with ten different mounting options for the perfect fit. Air3C can be plugged into TVs or source players, while drawing power from your TV.
A proven technology
Air3C is based on the Air3™, which is installed in thousands of homes and businesses worldwide. Stream video, cable/satellite, Blu-Ray, and even Internet content – up to 1080p60, 3D, and 7.1 surround sound.
Great for gaming
"Zero latency" means no delay between your gaming console and the big screen.
Symmetry Electronics is an authorized DVDO distributor.