Telit Presents - Network Selection to Connect Edge Devices to the IoT and the Enterprise
Friday, May 8, 2015
Creating your own IoT solutions – from connection, to management and integration – has become plug-and-play easy. Connected devices are changing how companies compete and getting devices online is not enough in an increasingly competitive marketplace. When implementing an IoT strategy, developers and service providers need to consider security and QoS concerns making network selection and evaluating managed service providers.
Tuesday, May 19, 2015
Time: 2:00 PM EST/ 11:00 AM PST
When selecting a network services provider for your IoT project, it is business-critical to secure the adequate level of flexibility for configuring your services together with tailored rate plans to deliver exactly the connectivity specifications needed for the usage profile of your IoT deployment. Learn about the variables, triggers and rules you need to consider for a successful operation, particularly for cost constrained business models. Learn about how easy-to-use, Web based management tools can provide you with in-depth oversight into your account – right down to the individual SIM/subscription; and how to leverage Value Added Services to differentiate your offerings, capitalize on new revenue opportunities and fundamentally change the way you troubleshoot, control, monitor and manage connected assets within the mobile network domain.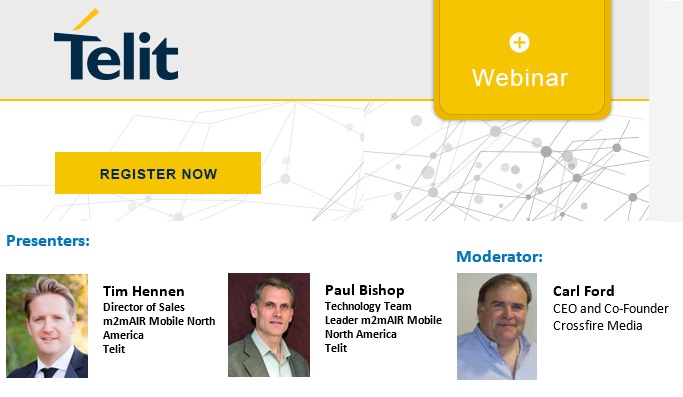 You will learn:
What to evaluate when considering network selection and managed service providers
What are the risks of unmanaged service offerings
What are the potential security threats on a public network
How robust QoS monitoring tools can improve your SLA
How the right managed service provider can differentiate you in a competitive marketplace
Who should attend:
Developers and System Integrators creating IoT applications
CIOs looking to manage Things to create value
Operation managers with field services teams
Technology-based service providers in Telematics, Energy, Healthcare, Consumer, etc…
Anyone interested in analytics and improving ROI
Symmetry Electronics is an authorized Telit distributor.