Telit Firmware Updates: Top 7 FAQs | Symmetry Blog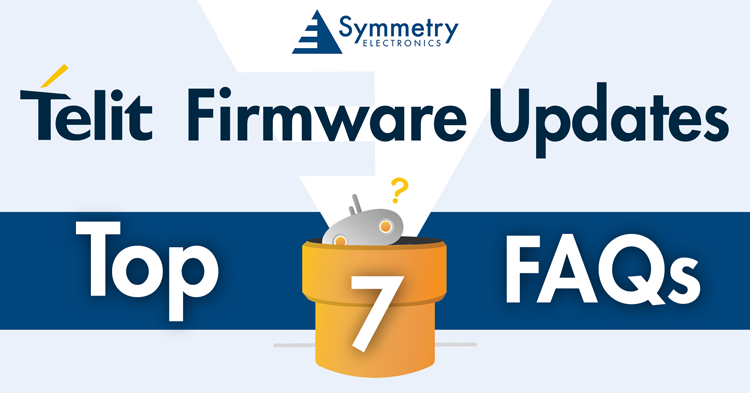 1. Why are firmware (FW) upgrades required?
It is always recommended to have devices utilizing the latest FW to apply new features and bug fixes if applicable.
2. What are the pre-requisites for the FW upgrade process?
You will need the following tools when upgrading Telit cellular modules:
PC with latest drivers.
XFP tool for .bin FW files.
Correct FW file which can be obtained from Telit's Download Zone – online portal to access development documentation and software for Telit-based IoT projects.
Hardware (HW) requirements:
Symmetry Electronics offers the programming jig for the xE910 module family. Otherwise, customers have the option to use a custom board for FW upgrades.
For custom boards, you will need to gain direct access to the module via a USB or UART. (FW upgrades cannot be done via a controller.)
3. What is the procedure for FW upgrades?
There are two types of FW files available for modules: TFI and .bin. The procedure varies depending on file type:
For .bin files:
Refer to Telit's Modules Software User Guide, Section 4.1, Page 139
Download the XFP tool.
Install the latest drivers.
For TFI Files:
Turn on modem and connect it to a PC.
Double click on the TFI executable file to upgrade the module.
Install the latest drivers.
4. How do I obtain the latest FW file?
Telit uploads their latest FW files to their Download Zone. If you have any doubts regarding the correct file to use, or are having trouble obtaining it, feel free to contact Symmetry Electronics for assistance.
5. Do I need a programming board or hardware to upgrade?
Telit has a programming jig that can be used to upgrade modules from their xE910 series. However, all devices can be upgraded via custom boards if HW requirements are met. You can find more information regarding the programming jig here.
6. Can I perform the upgrade on a custom PCB?
Yes, you can upgrade devices after they have been soldered on boards if HW requirements are met. The main requirement is direct access to the modem via USB or UART. You cannot upgrade through a controller.
7. How long does it take for the upgrade procedure to be complete?
It depends on which module family is being upgraded and the FW version that the module already has downloaded. On average it takes around 3 - 4 minutes per module.