TDK-Micronas' HAL® 15xy Hall Effect Switches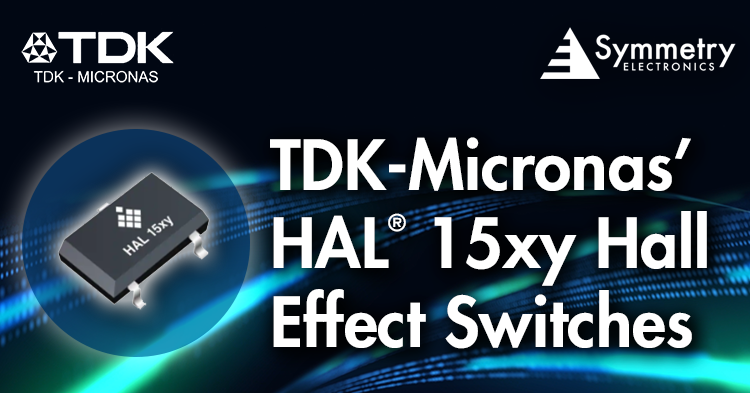 With over six billion hall sensors shipped to the automotive and industrial market, TDK-Micronas leverages over 25 years of industry experience to supply best-in-class sensor and attenuator solutions. Their latest HAL® 15xy product family consists of the industry's first compact, robust, safe, and power-friendly Hall switches that are ISO26262 compliant in SOT23 packaging.
The HAL 15xy Family of Hall Switches
HAL 15xy sensors are monolithic integrated circuits (Figure 1) capable of switching in response to magnetic fields. In comparison to its predecessor, the HAL 5xy, the HAL 15xy integrates a temperature-compensated Hall plate with active offset & comparator. HAL 15xy products are available with open-drain or current output. Additionally, the HAL 15xy line operates with improved lower supply current requirements, higher dynamic magnetic fields, lower jitter, and a wide supply voltage range. Most notably, HAL 15xy sensors are ISO26262 certified and AEC-100 qualified.
The HAL 15xy family of Hall switches is a comprehensive line of products that offers many variations in switching points and temperature coefficients to meet developer requirements. HAL 15xy products provide next-generation power, robustness, and safety performance in SOT23 & TO92-UA packaging. Equipped with new and advanced monitoring features, HAL 15xy switches offer a single point fault metric greater than 60%.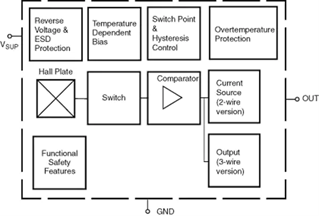 Figure 1: HAL 15xy System Architecture
HAL 15xy Key Features:
Sampling and output refresh time of 2 μs
17 different magnetic switching points
3-wire version with a short-circuit protected open-drain output
Switching bandwidth 12kH, optimally from 3-93 kHz
2-wire version with current output
Very low current consumptions of typ. 1.6 mA and max. 2 mA (3-wire)
Wide supply voltage operation from 2.7 V to 24 V
Overvoltage protection capability up to 40 V
Available in the smallest SOT23 package
Highest ESD performance up to ±8 kV
Reverse-voltage protection at the supply pin
Operating with static and dynamic magnetic fields up to 12 kHz at the lowest output jitter of max. 0.58 μs (RMS). Customized versions are possible up to 93 kHz.
AEC-Q 100 qualification
ISO 26262 compliant as ASIL B ready device
Additional functional safety features e.g.: Power on self-test, Monitoring of bias, under voltage, and current level, Overtemperature shutdown, Output current limitation
Wide junction temperature range from −40 °C to 170 °C, specially designed for operation in harsh environments
Magnetic characteristics are robust against mechanical stress
Broad variety of temperature-compensated constant switching points
Applications:
End position detection
Index counting
Motor communication
Browse HAL® 15xy Solutions
Version

Type

Switching Behavior

BON[mT]
BOFF[mT]

Temp.

Coefficient

[ppm/K]

2-Wire

ISUPlow

[mA]

Pre-Decessor

3-Wire

HAL 1501

bipolar

0.4

-0.4

0

-

HAL501



HAL 1502

latching

2.5

-2.5

-1000

-

HAL502



HAL 1503

unipolar

5.5

3.7

-1000

-

HAL503



HAL 1504

latching

7.6

-7.6

-1200

-

HAL504



HAL 1505

latching

13.5

-13.5

-1200

-

HAL505



HAL 1506

unipolar

18.9

17.3

-1200

-

HAL508



HAL 1507

unipolar

28.2

23.9

-300

-

HAL509



HAL 1508

unipolar

-5.5

-3.7

-1000

-

HAL549



HAL 1509

unipolar inverted

3.7

5.5

-1000

-

HAL516



HAL 1510

unipolar

12

7

-1200

-

HAL504

2-Wire
HAL 1561

latching

4

-4

0

5 to 7

HAL575



HAL 1562

latching

12

-12

0

5 to 7

HAL579



HAL 1563

unipolar inverted

7.6

9.4

0

5 to7

HAL584


HAL 1564

unipolar inverted

4.1

6

-1000

2 to 5

HAL566


HAL 1565

unipolar

6

4.1

-1000

2 to 5
HAL556


HAL 1566

unipolar

9.4

7.6

0

5 to 7
HAL574