Taking Artificial Intelligence to the Edge | Supplier News Update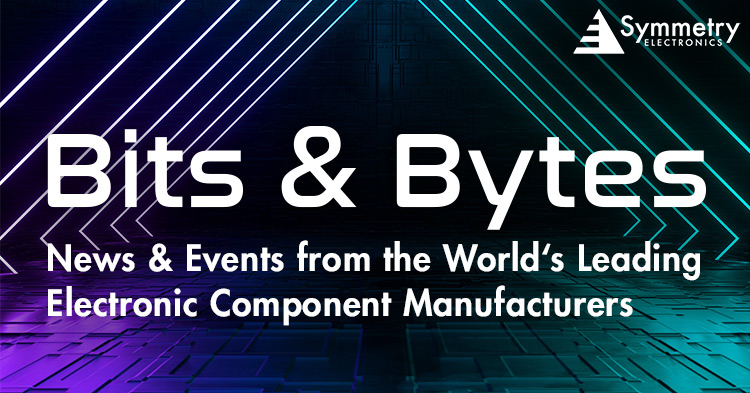 Symmetry Supplier Blogs & Press Releases
Keep up to date with the latest blogs from our sister company, Mouser Electronics, from the TTI Family of Companies. Mouser is a worldwide leading authorized distributor of semiconductors and electronic components for over 800 industry leading manufacturers. They specialize in the rapid introduction of new products and technologies for design engineers and buyers.
---
Symmetry Supplier-Hosted Webinars & Events
[October 12-13, Sensirion] [Fort Collins, CO] CH4 Connections
[October 12, Silicon Labs] Develop Wi-Fi RS9116 within Simplicity Studio
[October 13, Nordic Semiconductor] Connect Anything - Intro to Nordic's cellular IoT offering
[October 13-14, Sensirion] [VIRTUAL EVENT] AQE
[October 14, Lantronix] Partner Training – PoE Switches
[October 14, Nordic Semiconductor] Developing Matter products with nRF Connect SDK
[October 19, Silicon Labs] Security Configuration
[October 19-21, Telit] [St. Louis, MI] UBBA Summit
[October 21, Lantronix] SmartEdge Partner Webinar 14: Effective Communication in Current Times
[October 21, Telit] Accelerating and Improving Real-Time Decision Making in Industry
[October 25-27, Digi] [Dallas, TX] AT&T Business Summit 2021
[October 26, Silicon Labs] How Unify SDK helps manage Multiple Protocols
[October 26-28, Telit] [Los Angeles, CA] Mobile World Congress Los Angeles
[October 27-28, Digi] [VIRTUAL EVENT] AT&T Business Summit 2021
[October 27, Semtech] Enabling Maintenance-Free LoRa® Geolocation Design for Smart Logistics
[October 27, Telit] CSIA Webinar: Build a Successful Business with IIoT
[October 28, Lantronix] Partner Training – SaaS, REM, OOBM and IoT
[October 29, Semtech] [VIRTUAL EVENT] The Things Conference – Agriculture
[November 1-4, Digi] [EVENT] Channel Partners Conference & Expo 2021
[November 1-3, Semtech] [VIRTUAL EVENT] ECOC Virtual
[November 2-4, Lantronix] [Santa Clara, CA] IoT World
[November 3strong> Nordic SemiconductorIntroducing nRF Connect for VS Code
[November 8-10, Digi] [Orlando, FL] APTA Expo 2021
[November 9, iC-Haus] Encoder Chips for Safety Applications Safe Drives through Optical Twin-Scan Encoder ICs
[November 9-13, Monolithic Power Systems] [VIRTUAL EVENT] MPS Virtual Electronica Experience
[November 9, Semtech] Track & Trace Using AWS & LoRa Cloud™ Services
[November 9, Silicon Labs] Walk Through Silicon Labs' New Support for Apple HomeKit
[November 17-18, Lantronix] [New York, NY] ISC East 2021
[November 23, Silicon Labs] New Bluetooth Mesh Light & Sensor Models
[November 24-25, Sensirion] [VIRTUAL EVENT] PEFTEC
[December 7, Silicon Labs] Learn More About Matter Development for the Holidays
[December 21, Silicon Labs] Secure IoT Products with Customer Programming Manufacturing Services (CPMS)
[January 5-8, Sensirion] [Las Vegas, NV] CES 2022
Subscribe
Stay up to date with industry and supplier news!
Browse