Symmetry Releases 2 New Telit Based Cellular "In A Box" Development Kits Just in Time for CTIA
Tuesday, May 21, 2013
ust in time for CTIA, Symmetry Electronics and Telit release 2 new Cellular "In A Box" development kits. Everything you need to start a 3G, GPS.GSM, EVDO, 1xRTT cellular design only available at SemiconductorStore.com.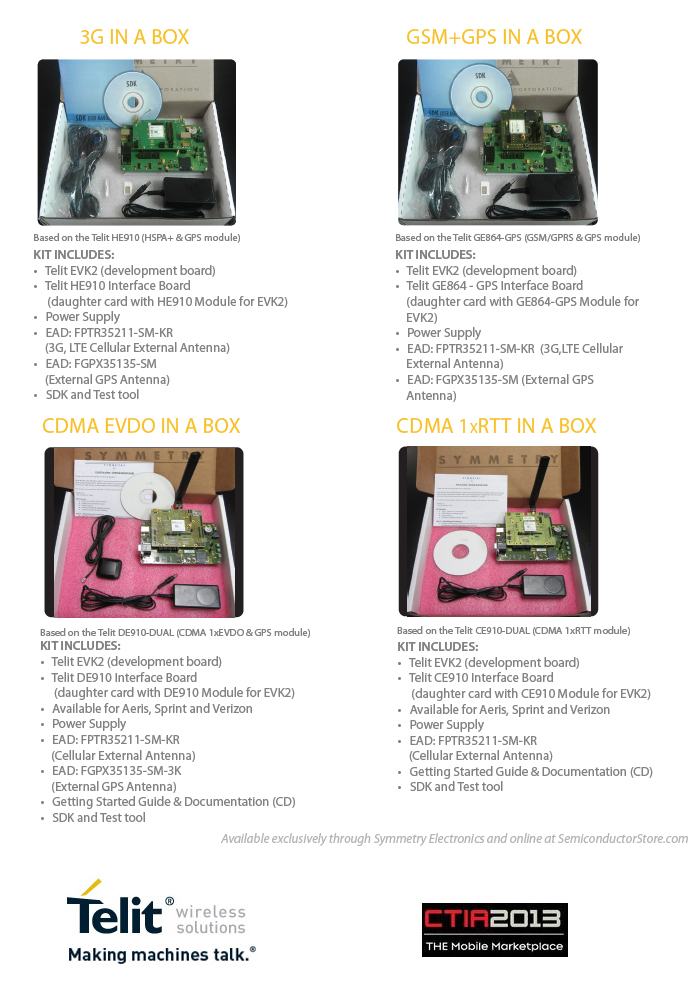 About Telit
Telit Wireless Solutions is a brand of Telit Communications PLC (Public Limited Company), an enabler of machine-to-machine (M2M) communications worldwide providing wireless module technology and, through its business unit m2mAIR, valueadded services, including connectivity.
About CTIA
Presented by CTIA-The Wireless Association®, the proven authority leading the mobile movement since 1984, CTIA 2013 will continue to illuminate the future by showcasing the leaders, ideas and experiences transforming our dynamic industry. With mobile technology at the forefront of all areas of business, CTIA 2013 is the year's must attend event.
Why partner with Symmetry Electronics? Symmetry's technical staff is specially trained by our suppliers to provide a comprehensive level of technical support. Our in-house Applications Engineers provide free design services to help customers early in the design cycle, providing solutions to save them time, money and frustration. Contact Symmetry for more information.