Symmetry Electronics to Give Away $1,000s in Prizes at DESIGN East 2012
Friday, August 24, 2012
This year in Boston, Symmetry Electronics Corporation, a supplier-authorized, global distributor specializing in the distribution of wireless, video, and embedded semiconductor products, will be giving away $1,000s in prizes and awards.
As they do at every ESC show, several Symmetry suppliers and Symmetry itself will be offering items such as:
Evaluation Kit with HE910 Interface Board and prize bag (Telit Wireless Solutions)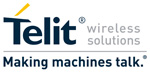 xPico, xPort and PremierWave Evaluation Kits (Lantronix)
Small prizes and collateral loaded USB sticks (Fujitsu Semiconductor America)

Several additional giveaways (Symmetry Electronics)
Attendees lucky enough to grab an ESC tote bag will receive an engineering tool and free shipping coupon sponsored by Symmetry Electronics. Be sure to stop by booth 808 and drop off a business card for all prize drawings.
Why partner with Symmetry Electronics? Symmetry's technical staff is specially trained by our suppliers to provide a comprehensive level of technical support. Our in-house Applications Engineers provide free design services to help customers early in the design cycle, providing solutions to save them time, money and frustration. Contact Symmetry for more information.