Combat Semiconductor Shortages with Symmetry Electronics' Redesign Resources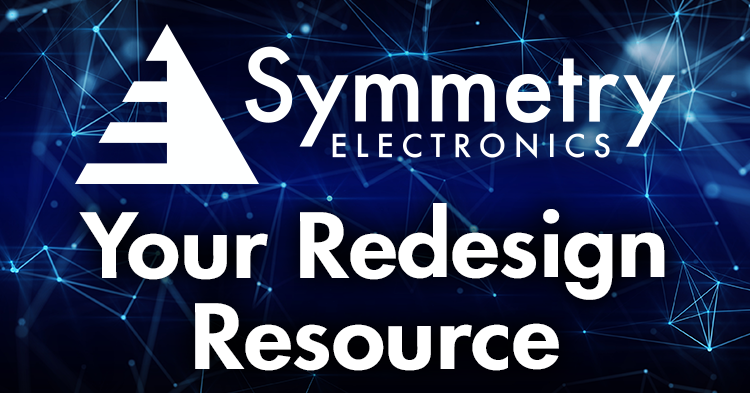 In what some consider a 'perfect storm,' the global semiconductor shortage has been rocking the electronics industry since the start of the decade. With average lead times for semiconductor products reaching 27 weeks, the disruption of the semiconductor supply chain derives from a litany of challenges including weather-related delays, international trade wars, and overall demand. With no definitive end to 'chipageddon' in sight, developers are increasingly looking to businesses in the industry for solutions. Luckily, Symmetry Electronics can help mitigate time-to-market delays caused by hard-to-source components through their comprehensive redesign resources.
Utilizing Symmetry Electronics' Redesign Resources
Founded in 1998, Symmetry Electronics is an authorized global semiconductor distributor. Our focused line card offers a diverse product portfolio of specialty semiconductor, IoT communication, wireless, and video technologies. Additionally, Symmetry also provides free samples on select models of their broad selection of available-to-ship parts. Our team of expert Applications Engineers provide unparalleled support through free consultations throughout design cycles to help industrial designers and engineers reach their goals.
XTG Comes Together to Provide Global Semiconductor Shortage Solutions
Symmetry Electronics is a member of the Exponential Technology Group (XTG). Berkshire Hathaway company, TTI, Inc., acquired electronic component distribution companies like Symmetry Electronics, Mouser Electronics, and RFMW in addition to engineering design services firms Connected Development and Paragon Innovations to create XTG.
The global network, extensive inventory, and technical expertise that XTG offers benefits designers with ultimate product development and engineering solutions. For example, Connected Development has decades' worth of experience and is uniquely qualified to assist developers in redesign processes. Their in-house anechoic chamber aids developers in streamlining the complex test and measurement analyses of device prototyping and provides peace of mind before designs enter official labs.
Combat Semiconductor Chip Shortages with Symmetry Electronics
From comprehensive design-phase support to select free product samples in a wide portfolio of solutions, Symmetry Electronics has everything developers need to combat supply chain disruptions caused by global semiconductor shortages. Design ins and outs are made simple through Symmetry Electronics' redesign resources.
For more information on how you can mitigate delays and streamline your design's time-to-market, contact Symmetry Electronics today!