Symmetry Electronics | Bits & Bytes | September 13, 2021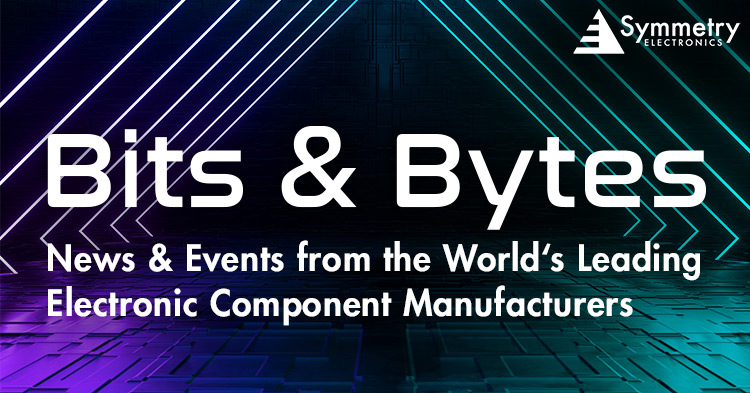 Symmetry Supplier Blogs & Press Releases
Keep up to date with the latest blogs from our sister company, Mouser Electronics, from the TTI Family of Companies. Mouser is a worldwide leading authorized distributor of semiconductors and electronic components for over 800 industry leading manufacturers. They specialize in the rapid introduction of new products and technologies for design engineers and buyers.
---
Symmetry Supplier-Hosted Webinars & Events
[September 14-15, Silicon Labs] [VIRTUAL EVENT] Works With 2021: Your Connection to All Things IoT
[September 14, Telit] Understanding the World of Smart X: The Diversity of 5G Connectivity Plans for IoT Verticals
[September 16, Digi] Medical Devices MUST Be Secure
[September 16, Lantronix] SmartEdge Partner Webinar 13: Learn How Storytelling Will Help Build Better Connections with Your Customers
[September 16, Lantronix] [Savannah, GA] TS Georgia – Annual Meeting
[September 21, Digi] AI at the Edge: Machine Learning in Embedded Systems
[September 21, Lantronix] [San Diego, CA] ADI San Diego
[September 21, Silicon Labs] PDM Interface to Digital Microphones
[September 21-24, MultiTech] [Indianapolis, IN] RSSI | Railway Systems Supplier | C & S Exhibition
[September 22-23, Sensirion] [SAN JOSE, CA] Sensors Converge
[September 23, Digi] The Evolution to 4G
[September 23, Lantronix] Partner Webinar: Lantronix Acquisition of Transition Networks Webinar
[September 23, Semtech] [VIRTUAL EVENT] The Things Conference - Generic Node and Smart City & Logistics
[September 23, Telit] Solving Edge Communication Challenges for Industrial IoT
[September 27-30, Digi] [LAS VEGAS, NV] IWCE 2021
[September 27-29, Lantronix] [Orlando, FL] GSX 2021
[September 27-30, Lantronix] [Dallas, TX] HiTec Dallas
[September 30, Nordic Semiconductor] Get Connected with Machine Learning
[October 5, Lantronix] [Chicago, IL] ADI Chicago
[October 6, Lantronix] [Augusta, GA] Fort Gordon Innovation Day
[October 9-13, Semtech] [Las Vegas, NV] NAB Lax Vegas 2021
[October 12-13, Sensirion] [Fort Collins, CO] CH4 Connections
[October 13-14, Sensirion] [VIRTUAL EVENT] AQE
[October 19, Silicon Labs] Security Configuration
[October 19-21, Telit] [St. Louis, MI] UBBA Summit
[October 25-27, Digi] [Dallas, TX] AT&T Business Summit 2021
[October 26-28, Telit] [Los Angeles, CA] Mobile World Congress Los Angeles
[October 29, Semtech] [VIRTUAL EVENT] The Things Conference – Agriculture
[November 1-4, Digi] [EVENT] Channel Partners Conference & Expo 2021
[ November 1-3, Semtech] [VIRTUAL EVENT] ECOC Virtual
[November 2-4, Lantronix] [Santa Clara, CA] IoT World
[November 8-10, Digi] [Orlando, FL] APTA Expo 2021
[November 9-13, Monolithic Power Systems] [VIRTUAL EVENT] MPS Virtual Electronica Experience
[November 17-18, Lantronix] [New York, NY] ISC East 2021
[November 24-25, Sensirion] [VIRTUAL EVENT] PEFTEC
Why partner with Symmetry Electronics? Symmetry's technical staff is specially trained by our suppliers to provide a comprehensive level of technical support. Our in-house Applications Engineers provide free design services to help customers early in the design cycle, providing solutions to save them time, money and frustration. Contact Symmetry for more information.