Symmetry Electronics | Bits & Bytes | June 1, 2021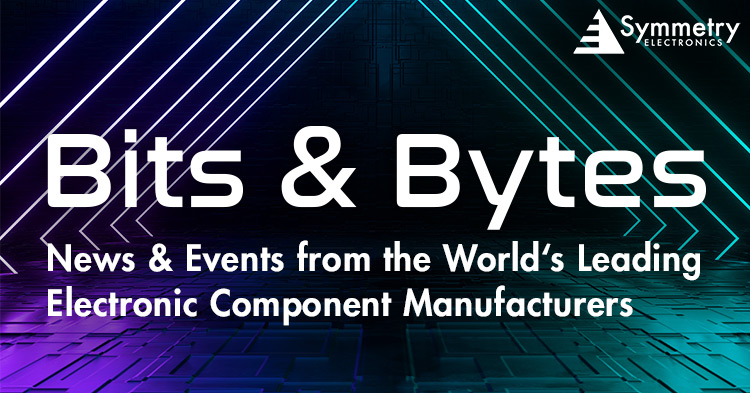 Symmetry Supplier Blogs & Press Releases
Keep up to date with the latest blogs from our sister company, Mouser Electronics, from the TTI Family of Companies. Mouser is a worldwide leading authorized distributor of semiconductors and electronic components for over 800 industry leading manufacturers. They specialize in the rapid introduction of new products and technologies for design engineers and buyers.
---
Symmetry Supplier-Hosted Webinars & Virtual Events
[June 3, Nordic Semiconductor] Advanced Wearables Project Support and Q&A
[June 3, Telit] Creating 5G-Powered Seamless Private-to-Public Networks
[June 8, Silicon Labs] Implement a Bluetooth AoX Solution with BG22
[June 8, Telit] How to Reduce Power Consumption and Develop Applications for IoT Deployments: A Telit Technical Workshop
[June 9, Nordic Semiconductor] Introducing the industry's most compact power management solution
[June 9, Taoglas] Navigating the Best Integration and Certification Practices for Your Cellular IoT Device
[June 15, Silicon Labs] Add a Standard Bluetooth Service to Your BLE Project
[June 15, Trinamic] Top 5 Pain Points of Stepper Motors and How To Overcome Them
[June 16, Nordic Semiconductor] Navigating the Design Complexities of Low Power LTE-M and NB-IoT Networks
[June 16, Telit] The Era of Smart IoT Modules
[June 17, Telit] 5G IoT and the Enterprise: The Current State of 5G and IoT Applications
[June 22, Silicon Labs] Understand the Benefits of Wi-SUN for Long Range Industrial Applications
[June 23, Lantronix] SmartEdge Partner Summit
[June 30, Nordic Semiconductor] AI Workshop: Meet your new fitness trainer - Muscle-AI
[July 8, Telit] The Rise of Industrial IoT and Connected Machines
[July 13, Silicon Labs] Learn to Use Machine Learning for Predicative Maintenance
[July 13, Telit] How to Build the Roadmap for the Best Migration Path from 2G and 3G
[July 20, Silicon Labs] How Security Encryption is Handled by Hardware and Software
[July 20, Telit] Multi-IMSI, eSIM, iSIM: How to Choose the Right SIM for Your IoT Deployment
[July 27, Silicon Labs] Simplify Your Bluetooth Designs Using Python Scripts
[August 10, Silicon Labs] Quick Start your Bluetooth Designs for Pulse Oximetry and Electric Shelf Labels
[August 11, Telit] Understanding 5G Specifications and How to Avoid Costly Module Selection Mistakes
[August 17, Silicon Labs] Understand Your Bluetooth Mesh Traffic Using Network Analyzer
[August 24, Silicon Labs] Works With: Make the Most of WW 2021
Subscribe
Stay up to date with industry and supplier news!
Browse