Symmetry Electronics | Bits & Bytes | January 25, 2021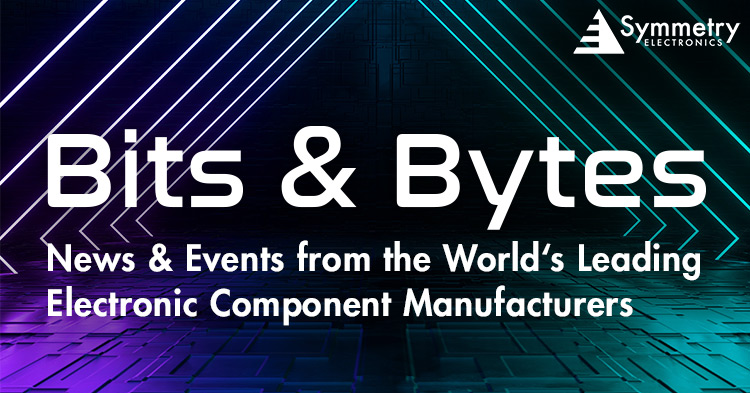 Symmetry Supplier Blogs & Press Releases
Keep up to date with the latest blogs from our sister company, Mouser Electronics, from the TTI Family of Companies. Mouser is a worldwide leading authorized distributor of semiconductors and electronic components for over 800 industry leading manufacturers. They specialize in the rapid introduction of new products and technologies for design engineers and buyers.
---
Symmetry Supplier-Hosted Webinars & Virtual Events
[Jan. 25 - 29, MultiTech] [EVENT] The Things Conference 2021
[Jan. 25 - 29, Semtech] [EVENT] The Things Conference 2021
[January 26, Silicon Labs] Timing Solutions for Open-Compute Systems
[January 27, Nordic Semiconductor] nRF9160 - Putting the
[January 27, MultiTech] [EVENT] UPTIME 2021
[January 27, Silicon Labs] IsoDrivers in High Power Inverter Systems
[January 28, Digi International] IoT Solutions for Heavy Civil Construction
[January 28, Telit] How to Manage the Transition from 2G/3G to LTE Cat-M and NB-IoT
[February 3, Nordic Semiconductor] Introduction to the micro:bit V2
[February 10, Sensirion] Boosting Development and Manufacturing of Modern Drugs Using Sensors. Lessons Learnt from COVID-19
[February 10, Silicon Labs] Isolated Gate Driver for Power Supply Applications
[February 11, Digi International] No Matter How Good Your Design Is, If It's Not Secure, You Could Be At Risk
[February 11, Telit] Understanding the Diversity of 5G Connectivity Plans for IoT and MBB
[February 16, Telit] Solving Edge Communication Challenges
[February 18, Telit] What You Need to Know About Winning the IoT Cybersecurity War
[February 24, Silicon Labs] Isolated Signal Sensing
[February 24, Telit] Connected Healthcare: How IoT Technology is Driving Improvements for Patient Health Outcomes
[March 1 - 5, AMD] [EVENT] Embedded World
[March 1 - 5, Semtech] [EVENT] Embedded World
[March 10, Silicon Labs] Factories Are Dirty-Protecting Industrial PLC Inputs
[March 18, Nordic Semiconductor] Get Started on Your Advanced Wearables Project
[March 24, Silicon Labs] Benefits of Functional Safety in Automotive Applications
[March 25, Telit] How End-to-End IoT Connectivity Enables Smart Agriculture Solutions
Subscribe
Stay up to date with industry and supplier news!
Browse