Symmetry Electronics | Bits & Bytes | February 22, 2021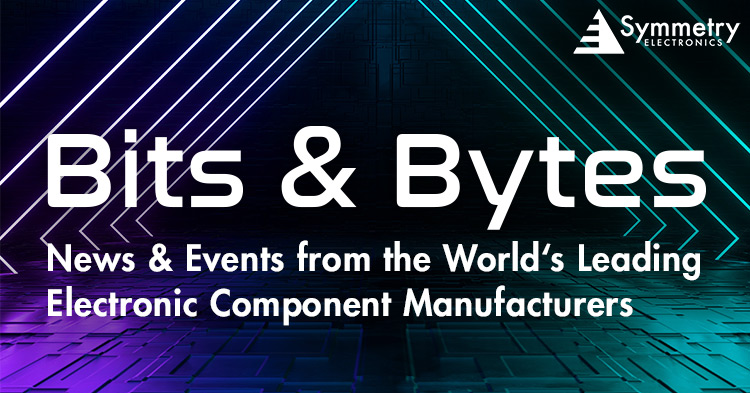 Symmetry Supplier Blogs & Press Releases
Keep up to date with the latest blogs from our sister company, Mouser Electronics, from the TTI Family of Companies. Mouser is a worldwide leading authorized distributor of semiconductors and electronic components for over 800 industry leading manufacturers. They specialize in the rapid introduction of new products and technologies for design engineers and buyers.
---
Symmetry Supplier-Hosted Webinars & Virtual Events
[February 23, Silicon Labs] Design with Z-Wave to Extend Your Wireless Range 1 Mile
[February 24, Nordic Semiconductor] Powering the Next Generation of IoT with Embedded ML
[February 24, Silicon Labs] Isolated Signal Sensing
[February 24, Telit] Connected Healthcare: How IoT Technology is Driving Improvements for Patient Health Outcomes
[February 25, Telit] Destination LoRaWAN: Implementing and Deploying LoRaWAN Roaming
[March 1 - 5, AMD] [EVENT] Embedded World
[March 1 - 5, Nordic Semiconductor] [EVENT] Embedded World
[March 1 - 5, Semtech] [EVENT] Embedded World
[March 1 - 5, Trinamic] [EVENT] Embedded World
[March 9, Silicon Labs] Add Free RTOS to Your Bluetooth Application
[March 10, Silicon Labs] Factories Are Dirty-Protecting Industrial PLC Inputs
[March 15, MultiTech] Asset Tracking Made Simple with LoRa® 2.4 GHz
[March16, Silicon Labs] Quickly Add an Accelerometer with SPI
[March16, Telit] Kumpan Electric and Telit: How IoT Modules, Connectivity and Platforms Are Paving the Way for Better Transportation
[March 18, Nordic Semiconductor] Get Started on Your Advanced Wearables Project
[March 23, Silicon Labs] Unboxing the BGM220 Explorer Kit
[March 24, Silicon Labs] Benefits of Functional Safety in Automotive Applications
[March 25, Telit] How End-to-End IoT Connectivity Enables Smart Agriculture Solutions
[April 13, Silicon Labs] Discover the Security Features of Secure Vault
[April 20, Silicon Labs] Learn How to Use Bootloaders and OTA in Your Project
[April 22, Telit] How Cellular IoT Drives Smarter Solutions and Greater Productivity
[April 27, Silicon Labs] Uncover Sub-GHz and Proprietary Solutions within Simplicity Studio v5
[May 11, Silicon Labs] Optimize Your Battery Power with BG22
[May 18, Silicon Labs] Use Peripheral Reflex System (PRS) for Complex IO Logic
[May 25, Silicon Labs] Get to Know OpenThread Resources and Examples
Why partner with Symmetry Electronics? Symmetry's technical staff is specially trained by our suppliers to provide a comprehensive level of technical support. Our in-house Applications Engineers provide free design services to help customers early in the design cycle, providing solutions to save them time, money and frustration. Contact Symmetry for more information.