Symmetry Electronics | Bits & Bytes | April 19, 2021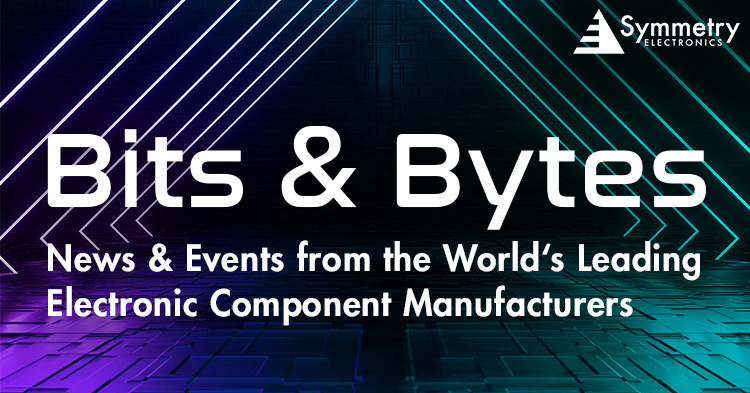 Symmetry Supplier Blogs & Press Releases
Keep up to date with the latest blogs from our sister company, Mouser Electronics, from the TTI Family of Companies. Mouser is a worldwide leading authorized distributor of semiconductors and electronic components for over 800 industry leading manufacturers. They specialize in the rapid introduction of new products and technologies for design engineers and buyers.
Symmetry Supplier-Hosted Webinars & Virtual Events
[April 20, Digi International] The IoT Revolution: Connecting Green Technology
[April 20, Semtech] Spotlight on Key Pro AV Verticals for BlueRiver®
[April 20, Silicon Labs] Learn How to Use Bootloaders and OTA in Your Project
[April 21, AMD] [EVENT] HPE Accelerating Next for Americas/EMEA
[April 22, AMD] [EVENT] HPE Accelerating Next for APJ
[April 22, Nordic Semiconductor] Introduction to the nRF9160 SiP and Telenor Start IoT
[April 22, Telit] Understanding 5G Specifications and How to Avoid Costly Module Selection Mistakes
[April 22, Telit] How Cellular IoT Drives Smarter Solutions and Greater Productivity
[April 27, Telit] How to Add Multiple Wireless Technologies to Your IoT Application with Combination Modules and Module Pairing
[April 27, Silicon Labs] Optimize IIoT with Wireless Asset Monitoring and Energy Harvesting
[April 27, Silicon Labs] Uncover Sub-GHz and Proprietary Solutions within Simplicity Studio v5
[April 28, Nordic Semiconductor] How to Power Your Cellular IoT Product with Solar Energy Harvesting
[April 29, Nordic Semiconductor] When AI Meets the Wireless IoT
[April 28-29, Telit] [EVENT] Embedded IoT World
[April 30, Semtech] [EVENT] The Things Conference - Smart Facilities & Compliance
[May 5-6, AMD] [EVENT] Dell Technologies World
[May 5, Telit] Millimeter Wave and Sub-6 5G: The Fundamentals of 5G Antenna
[May 6, Taoglas] Preparing Public Safety for the 3G Sunset and the Dawn of 5G
[May 6, Telit] How to Prepare Your Cellular IoT-Enabled Device for Global Launch: A Use Case for Smart City Pest Control
[May 11, Silicon Labs] Optimize Your Battery Power with BG22
[May 18, iC-Haus] Taking Time of Flight (ToF) Measuring to a New Level with Ultra Short Laser Pulses
[May 18, Silicon Labs] Use Peripheral Reflex System (PRS) for Complex IO Logic
[May 20, Telit] Exploring Real 5G Use Cases: From Hype to Reality
[May 25, Silicon Labs] Get to Know OpenThread Resources and Examples
[May 25, Telit] Hybrid Private and Public Cellular and Wi-Fi Networks: What They Are and How They Work
[May 26, Nordic Semiconductor] Building 3 Fun Projects with the mico:bit V2
[June 15, Silicon Labs] Add a Standard Bluetooth Service to Your BLE Project
[June 25, Semtech] [EVENT] The Things Conference - Generic Node
Why partner with Symmetry Electronics? Symmetry's technical staff is specially trained by our suppliers to provide a comprehensive level of technical support. Our in-house Applications Engineers provide free design services to help customers early in the design cycle, providing solutions to save them time, money and frustration. Contact Symmetry for more information.