Symmetry Electronics Attending ESC 2015 in Boston
Monday, April 27, 2015
Join Symmetry Electronics along with featured suppliers: Lantronix, MultiTech, Silvertel and Telit at ESC Boston May 6-7, 2015 at the Boston Convention and Exhibition Center. Technical representatives from each company will be on hand to demo the latest innovative products and answer whatever questions you may have.
The Embedded Systems Conference (ESC) is the industry's largest, most comprehensive technical conference for embedded systems professionals in the U.S
Each exhibiting partner will have on-hand demonstrations and technical representatives at the tables to answer any and all questions.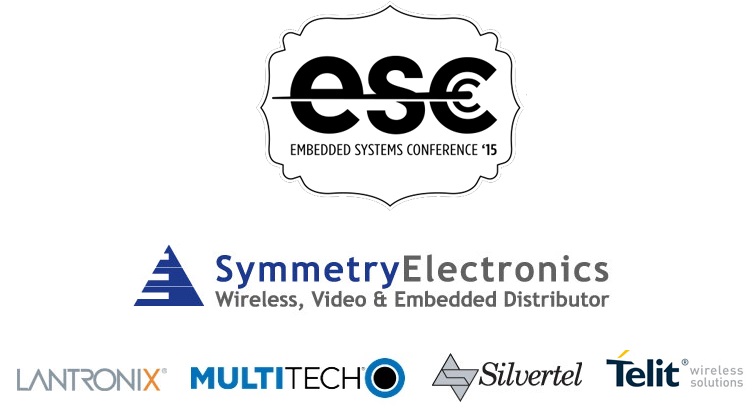 Lantronix will demonstrate how real world physical sensor data such as CO2, Air Temperature, Humidity and others can be conveniently transmitted wirelessly to the cloud or locally to any Smartphone using customized webpages hosted on the xPico Wi-Fi Module.
The MultiTech demonstration highlights the MultiConnect® Conduit's unique ability to manage MultiConnect® mDots, (inexpensive radios using the new Semtech LoRa™, low power, wide area RF modulation) connected to sensors or appliances and transmit their data over any cellular network to a customer's preferred data management platform.
With Ag9800 and Ag5300, once again Silvertel leads the way and produces the smallest 12W and 30W power over Ethernet (PoE) modules for the powered device (PD). The company has always been customer led and now Silvertel has pushed the boundaries even further by reducing the size of their feature rich modules.
Telit Wireless Solutions, a global enabler of the Internet of the Things (IoT), today announced the release of a new GNSS module, the SE868-V3. This positioning module combines GPS, Glonass, Beidou, Galileo, and SBAS which enables the creation of high-performance position reporting and navigation solutions.
Symmetry and it's partner suppliers can be find at tables: 27, 28, 29 and 30. Be sure to use our promo code: ICRHZ228 to receive a discount on your registration.