SIM vs. eSIM vs. iSIM | Which Should You Choose? | Symmetry Blog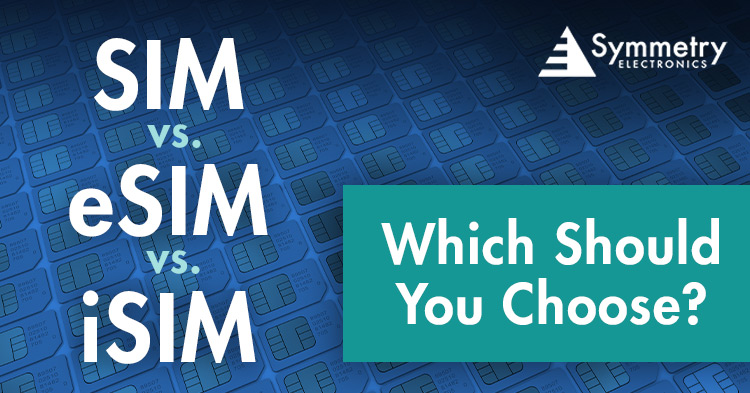 Developed in 1991, removable Subscriber Identification Modules (SIMs) are most commonly used in mobile phones for secure device identification and data storage. Serving as a link between a cellular device and network, SIMs are now being used in both small and large Internet of Things (IoT) deployments. As IoT devices continue to become more sophisticated, smaller and more advanced SIMs have been in demand. This has brought about the Embedded Universal Integrated Circuit (eSIM) and Integrated SIM (iSIM). Despite the introduction of these new SIM iterations, the removable SIM card is not obsolete and is still the ideal choice for specific use cases.
Characteristics of the Removable SIM
Most commonly used in consumer mobile applications, the removable SIM has been around for three decades and offers a simple solution for secure device identification and data storage. Traditional SIMs are offered in the following three form factors to accommodate specific use cases and sizing constraints:
Mini SIM (25mm x 15mm x 0.76mm)
Micro SIM (15mm x 12mm x 0.76mm)
Nano SIM (12.33mm x 8.8mm x 0.67mm)
Despite their ease of use and convenient removability, traditional SIMs withhold a few drawbacks. Although SIMs are offered in three different form factors, they are still relatively large in comparison to the eSIM and iSIM. This makes them not the ideal choice for compact IoT applications. Additionally, since SIMs can be physically removed from devices, there is a heightened risk of theft or tampering. For applications that are to be used in harsh environments, removable SIMs are not the ideal choice, as they can easily be exposed to the elements. Finally, SIMs require physical maintenance and management, making them not the ideal choice for massive IoT deployments.
eSIM Chip Features
Measuring at 6mm x 5mm x 0.9mm, the eSIM saves more than half the space of a traditional SIM and is soldered directly to a device's printed circuit board (PCB). With wide adoption in the connected car industry, eSIMs are optimal for use in harsh outdoor environments. Offering the ability to send SIM profiles to devices via remote Over-the-Air (OTA) provisioning, eSIMs make a great solution for large IoT deployments. However, remote provisioning can prove to be costly, especially in areas with poor network coverage that could require in-person remediation. Although being soldered inside the device serves for security and protection from harsh environments, the eSIM would not be an ideal solution for those who wish to be able to physically transfer their SIM from one device to another.
Introducing the iSIM
The iSIM varies from that of the eSIM in that its hardware is integrated into System-on-Chip (SoC) architectures that combine a processor and cellular modem. Measuring at a fraction of a square millimeter, the iSIM is optimal for size-constrained devices using NB-IoT or LTE-M. Enabling efficient energy consumption, the iSIM allows for cost savings on the overall bill of materials (BOM), due to the elimination of dedicated hardware. The biggest drawback of the iSIM is that it is not yet standardized by the Global System for Mobile Communications (GSMA). Additionally, the lack of standardization has made it more challenging for iSIM devices to attain proper certification.
Determining Which SIM is Right for Your Application
Traditional removable SIMs, eSIMs, and iSIMs each withhold their own individual benefits and drawbacks. In determining which solution is best for your application, it is important to consider the following:
What are my sizing limitations?
What is the cost of my end product?
Does the product require remote provisioning?
Will the SIM card need to be removable?
What is my budget?
Is certification a major priority?


---