Silicon Labs' xG24 Pro Kit vs xG24 Dev Kit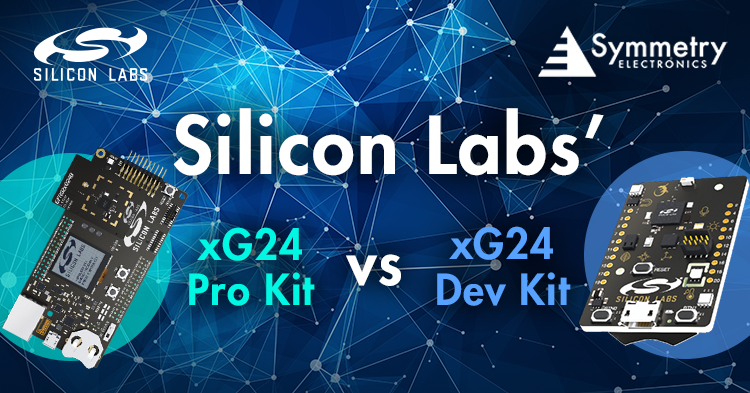 Designed as optimal solutions to fast-track prototyping of energy-conscious wireless IoT devices, Silicon Labs' xG24 kits are based on their EFR32™ Wireless Gecko System-on-Chip (SoC). Each product within their xG24 line is a powerful tool for connecting and enhancing wireless designs, but developers should consider intended applications before selecting between the xG24 development kit and their xG24 Wireless Pro Kits. We will outline the key features of each to help you determine the ideal option for your unique use case.
EFR32xG24 Development Kit
The xG24 development kit (xG24-DK2601B) is a compact, feature-rich prototype and development platform ideal for artificial intelligence (AI)/machine learning (ML) applications. Incorporating five different types of environmental sensors, an AI/ML hardware accelerator, Silicon Labs' xG24 dev kit supports platforms from TinyML, Edge Impulse, SensiML, and MicroAI. Additionally, the xG24 dev kit supports up to +10dBm output power, 20-bit ACD, and MicroAI.
Key Specifications
+10 dBm, 1536 kB Flash, 256 kB RAM, 6x6 QFN48
32-bit ARM® Cortex®-M33 with 78MHz maximum operating frequency
High-performance 2.4GHz radio
EFR32 Wireless Gecko System-on-Chip (SoC)
30-bit ADC
On-board sensors
Signal breakouts
AI/ML hardware accelerator
Silicon Labs' EFR32xG24 Wireless Pro Kits
EFR32xG24 Pro Kit +10 dBm & +20 dBm
Silicon Labs' xG24-PK6009A and xG24-PK6010A Wireless Pro Kits were designed to support the development of IoT devices based on the EFR32xG24. The xG24 Pro Kits are ideal for high-volume and scalable 2.4 GHz wireless IoT devices and come equipped with a WSTK main board and radio board for comprehensive evaluation.
Key Specifications
Advanced Energy Monitor
Packet Trace Interface
Virtual COM port
+10 dBm, 1536 kB Flash, 256 kB RAM, 6x6 QFN48 (xG24-PK6009A)
+20 dBm, 1536 kB Flash, 256 kB RAM, 6x6 QFN48 (xG24-PK6010A)
SEGGER J-Link on-board debugger
External device debugging
Ethernet and USB connectivity
Ultra-low power 128 x 128 pixel LCD
User LEDs and pushbuttons
20-pin EXP header
Breakout pads for Radio Board
CR2032 coin cell battery support
Based on EFR32MG24B310F1536IM48 2.4 GHz Wireless SoC
SecureVault™ High
Deciding Between the xG24 Pro Kit and the xG24 Dev Kit
Silicon Labs' xG24 series is a powerful solution for wireless IoT device development. Designed to maximize the reuse of EFR32 devices, the xG24 Pro Kit comes equipped with a WSTK main board and radio board to offer a comprehensive modular development platform that enables advanced development use cases and features RF measurements, energy profiling, external debug, and ethernet for large network testing. In comparison, Silicon Labs' xG24 Dev Kit is a low-cost development board with impressive out-of-the-box features and is an ideal solution for devices with AI/ML use cases.
Interested in incorporating a Silicon Labs xG24 solution in your device design? Contact Symmetry Electronics today!
Why partner with Symmetry Electronics? Symmetry's technical staff is specially trained by our suppliers to provide a comprehensive level of technical support. Our in-house Applications Engineers provide free design services to help customers early in the design cycle, providing solutions to save them time, money and frustration. Contact Symmetry for more information.