Shaping an Interconnected World at Works With 2023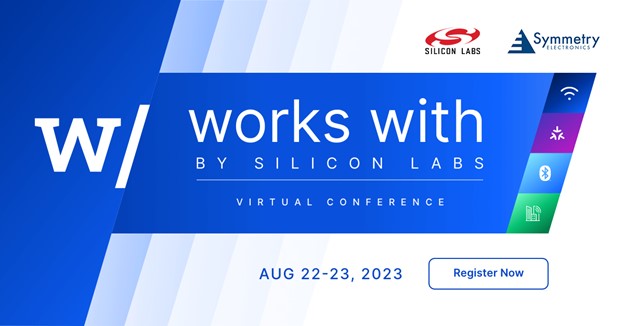 Silicon Labs, an industry leader in the realm of connected solutions and Internet of Things (IoT) technology, is set to hold its fourth annual Works With virtual conference on August 22nd and 23rd. Works With serves as a premier gathering for developers and enthusiasts in the electronics industry. With an extensive selection of over 40 technical sessions led by Silicon Labs experts and industry professionals, Works With 2023 will focus on Bluetooth, LPWAN, Matter, and Wi-Fi, plus top trends in IoT security, artificial intelligence (AI) and machine learning (ML), and market segments like Connected Health and Smart Cities. Works With 2023 promises to explore a wide range of IoT ecosystems and demystify, simplify, and expedite the development process of IoT devices.
What Can Developers Expect at Works With 2023?
At Silicon Labs' Works With 2023 virtual conference, developers can expect an immersive and enlightening experience that delves into the forefront of cutting-edge innovation. With a focus on fostering collaboration and driving the future of connected devices–Works With 2023 is a dynamic platform for networking with industry-leading experts, exploring the latest product offerings, and gaining invaluable insights into the rapidly evolving IoT landscape. From engaging keynote presentations and informative technical sessions to hands-on workshops and interactive demos, developers can anticipate a diverse array of opportunities to expand their knowledge, refine their skills, and be inspired to create transformative solutions. Whether you're a seasoned professional or just starting your journey, Silicon Labs' Works With 2023 is where the brightest minds in the industry come together to shape the future of IoT.
Works With 2023 is a free, two-day virtual event for smart home engineers, developers, product managers, business development professionals, and ecosystem partners–designed to help connect devices, platforms, and protocols to accelerate smart home development. Key Things to Look Out for at Works With 2023
Over 40 technical sessions from Silicon Labs experts, design partners, and developers from across the world.
Technical sessions with industry powerhouses, including Amazon, Google, Samsung, Z-Wave, and more.
Live Q&As for each session that offer you the unique opportunity to interact directly with experts in your specific area of interest.
Four insightful keynote presentations from Silicon Labs' executive leadership.
Five panel discussions where you can discover the industry's latest trends and technologies.
Additionally, the Works With 2023 agenda features engaging conference tracks on topics like:
Attending Works With 2023
With its comprehensive technical sessions, prominent keynotes, and valuable industry insights, Silicon Labs' Works With Conference 2023 promises to be your gateway to the industry's most popular ecosystems and brands. Secure your spot today and be a part of this exciting virtual experience!
Subscribe
Stay up to date with industry and supplier news!
Browse