Sensirion's Latest Environmental Monitoring Solutions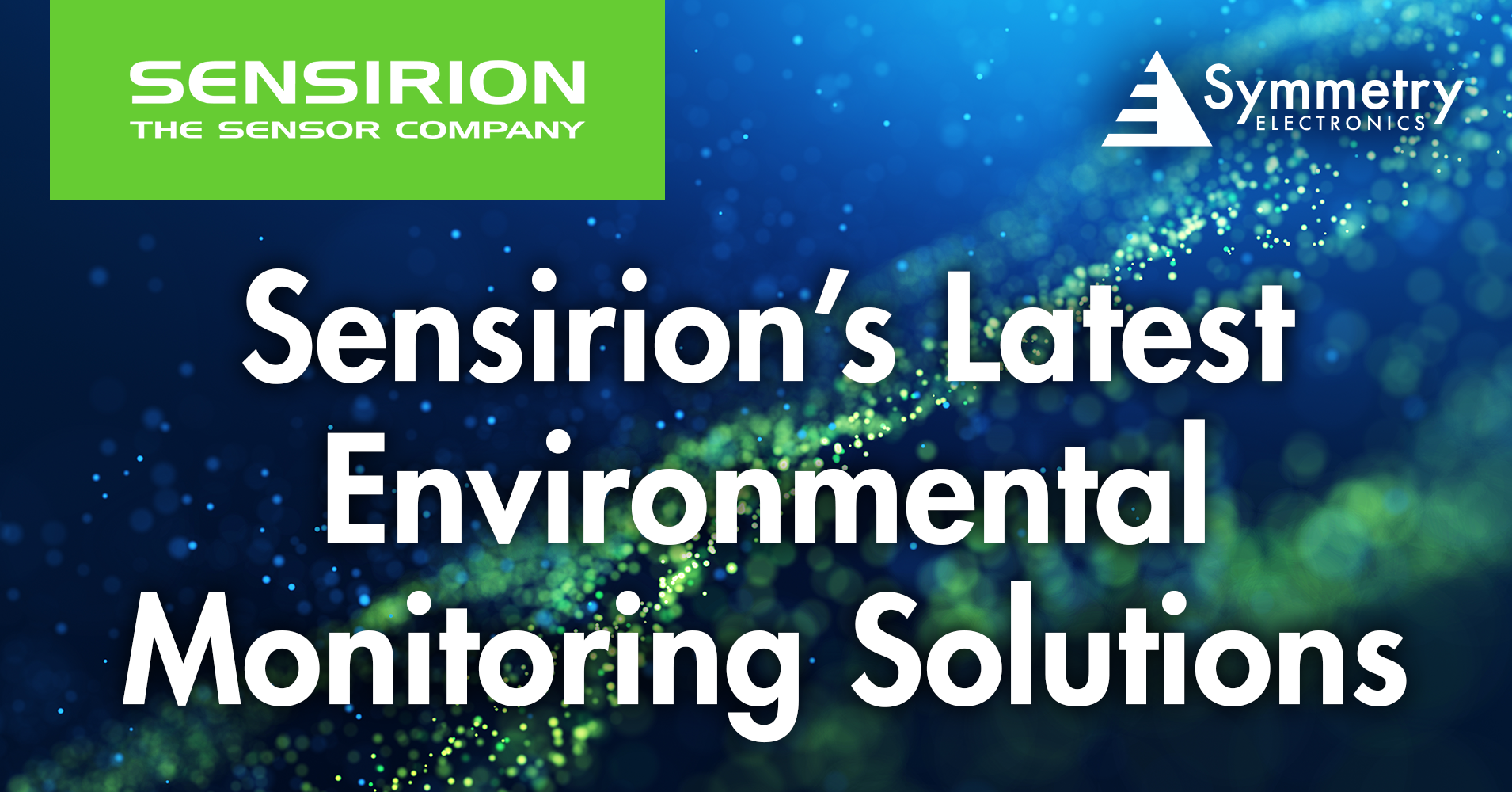 Leveraging over 20 years of industry expertise, Sensirion is committed to providing developers with cutting-edge environmental monitoring solutions. Sensirion's latest environmental monitoring solutions include sensors, gadgets, and evaluation bridges that help developers design intelligent devices that improve energy efficiency, ensure safety, and increase the health of their users.
Sensirion's SHT4x SmartGadget
Equipped with Sensirion's SHT40 Temperature and Humidity Sensor, the SHT4x SmartGadget is a comprehensive reference design circuit board that showcases the sensors performance and convenience. Featuring a Bluetooth Low Energy (BLE) module, SHT4x Smart Gadget devices can communicate with other BLE enabled devices like smartphones and wearables. The SHT4x SmartGadget also features:
Detailed hardware design resources (PCB layout, BOM) available on GitHub
A Liquid Crystal Display (LCD) for humidity, temperature, and dew point in F° or C°
Remote access through iOS and Android MyAmbiance app
Data logging and export capabilities
Sensirion's SCD4x CO2 Gadget
Sensirion's SCD4x CO2 Gadget is a simple, compact reference design circuit board that allows for the convenient develop and design of devices incorporating Sensirion's SCD4x CO2 sensor products. Featuring BLE connectivity to iOS and Android smartphones, the gadget is also equipped with an LED that visually indicates various CO2 concentration levels in indoor air quality. Key features of the SCD4x CO2 also include:
An integrated SCD4x CO2 sensor
A compact form factor (53mm x 19 mm x 13 mm)
Data logging and export capabilities
Free iOS & Android app availability
Sensirion's SCD4x CO2 Sensor
The SCD4x CO2 sensor from Sensirion is a cutting-edge miniature indoor air quality monitoring sensor. Based on the photoacoustic NDIR sensing principle, the SCD4x CO2 sensor also incorporates Sensirion's patented PAsens® and CMOSens® technologies to offer a cost-effective, compact, and innovative sensor solution. Enabling energy-efficient smart ventilation systems, the sensor helps maintain low CO2 concentrations to promote healthy indoor environments. The SCD4x CO2 sensor also features:
High accuracy: ±(40 ppm + 5 %)
Digital I2C interface
Large output range: 0 ppm – 40'000 ppm
Large supply voltage range: 2.4 – 5.5 V
Integrated temperature and humidity sensor
Low power operation down to < 0.4 mA avg. @ 5 V, 1 meas. / 5 minutes
Sensirion's Comprehensive SensorBridge
Sensirion's comprehensive SensorBridge allows two sensors to connect and evaluate simultaneously. The SensorBridge is a convenient solution to evaluate a wide range of Sensirion sensor products. Sensirion's SensorBridge features:
1.2 V to 5.5 V selectable supply
Power supply up to 250 mA at 5 V
Sensirion's next-generation environmental monitoring solutions ensure and maintain healthy indoor environments. Developers will also benefit from Sensirion's evaluation solutions and comprehensive design resources. Additionally, our expert team of Applications Engineers can assist developers with their environmental monitoring device designs. Consultation is free and available throughout the entirety of your design cycle. For more information or for assistance in designing your environmental monitoring device with a Sensirion smart sensor solution, contact Symmetry Electronics today!