Sensirion SFM3019: COVID-19 Respiratory Applications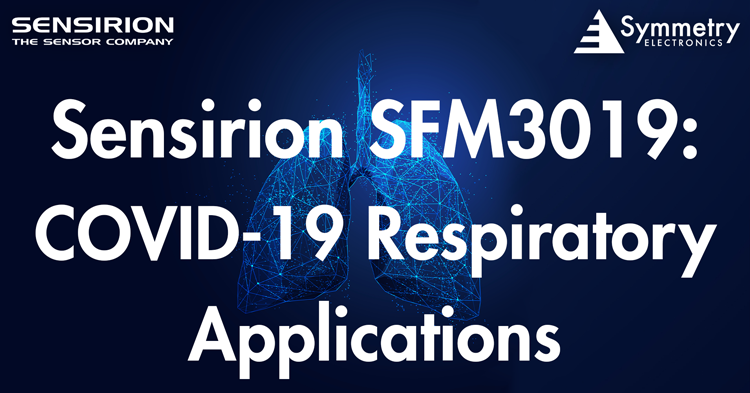 The year 2020 marks an unprecedented time in history with the onset of the COVID-19 pandemic. At the time of this article release, the coronavirus is continuing to spread throughout the world, causing destruction and devastation, with many questions still left unanswered. One potential symptom of the virus is mild to critical respiratory malfunction. As a result, there has been a rise in global demand for medical ventilators and other respiratory devices to help combat the virus. Rapid manufacturing is needed more than ever to meet the high demand for these devices that could ultimately save lives.
A variety of sensors are required to develop medical ventilators. It is therefore crucial that electronic component suppliers that specialize in this space develop these parts at a heightened rate. One key player that is contributing to the fight against the virus is specialized environmental and flow sensor supplier, Sensirion. One of Sensirion's latest products, the integrated SFM3019 Mass Flow Meter sensor, stands out as an integral technology, with its ability to accurately measure air and oxygen flow to support high-volume respiratory applications.
Sensirion Patented Technology: CMOSens® Chip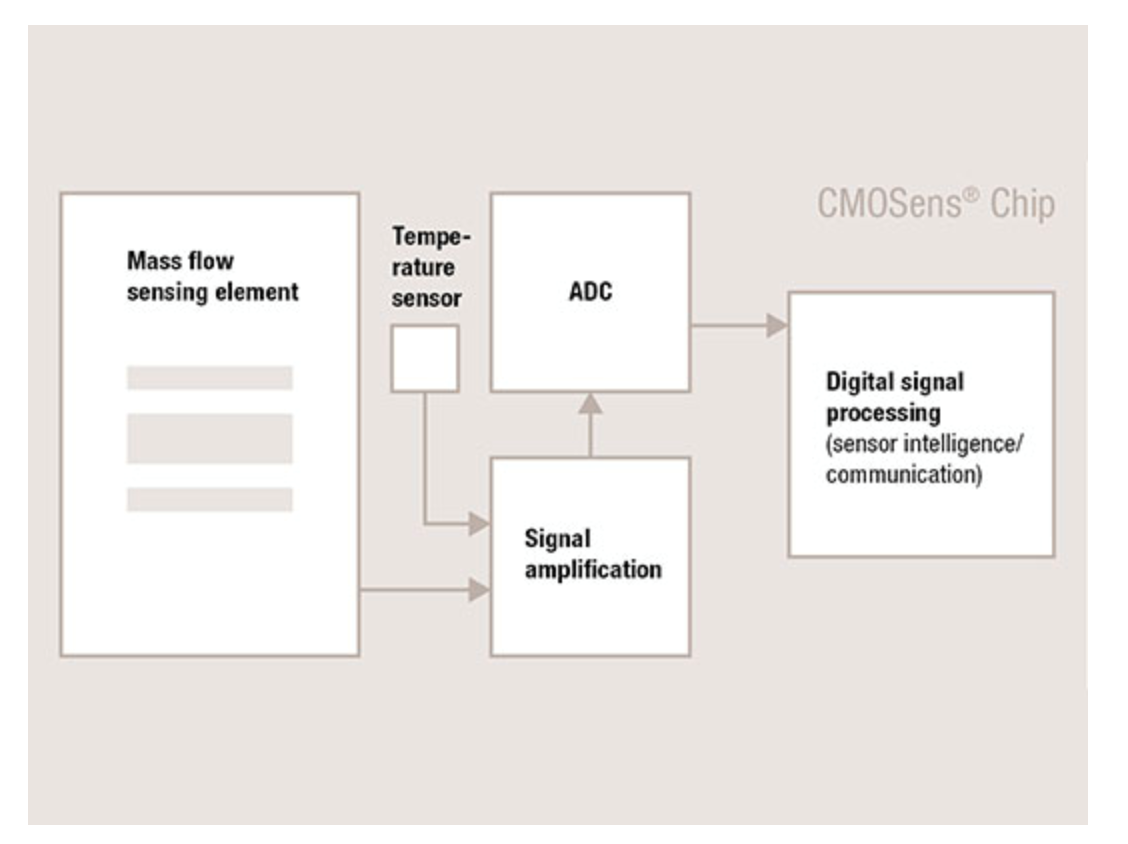 Figure 1: CMOSens Chip Block Diagram
The SFM3019 sensor is based on Sensirion's patented CMOSens® Technology. This unique technology allows Sensirion to conveniently fuse together the tiny sensor component, signal amplifier, analog-to-digital converter (ADC), and the complex signal processing circuitry onto a single CMOS silicon chip. Combining the analog and digital processing circuit with the sensor sub-system is particularly advantageous, as it allows the chip to produce more robust and accurate data. The close integration of these two major sub-components allows the IC to perform the amplification, complex signal processing, and optimization of these analog signals directly at the point of measurement with low latency. This makes the overall measurements of the CMOS sensor more stable and precise as the whole signal processing phase would be less susceptible to noise and interference that would be inherently present in the entire system.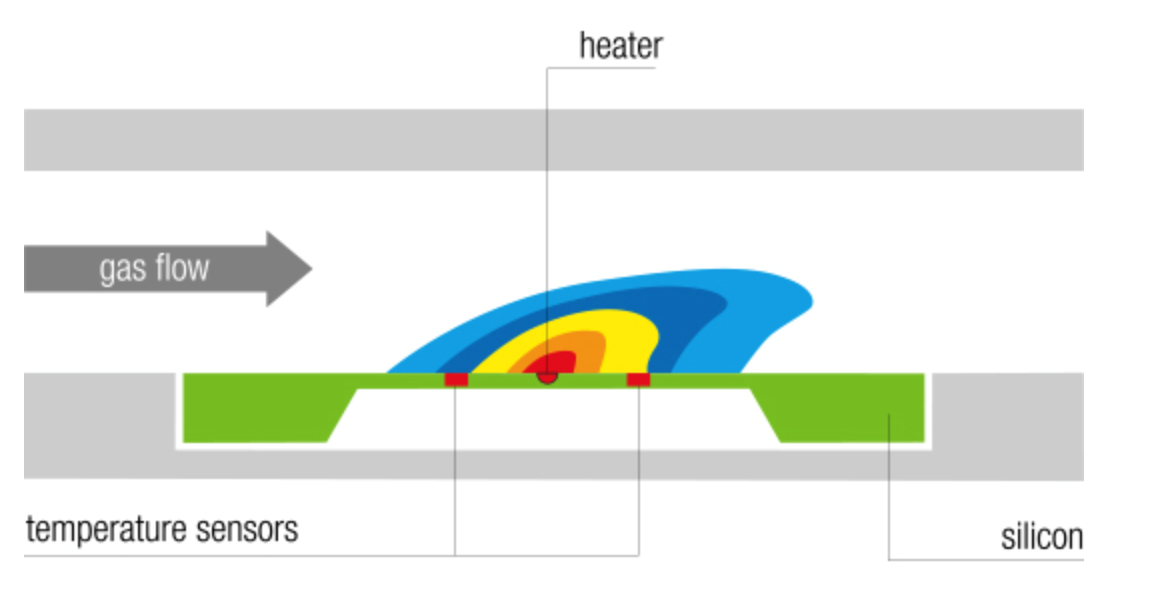 Figure 2: Cross-sectional view of the sensor component. (A heating element positioned at the center of a membrane, with temperature sensors positioned at both directions of gas flow.)
The SFM3019 contains a unique thermal measurement element that contributes to the meter's ability to deliver highly reliable data. The thermal sensor is used to measure the bi-directional flow of gas within the air channel. At the center of the silicon lies a pressure-stabilized membrane, containing a heating element that is sandwiched between two temperature sensors to account for gas flow. As gas flows over the entire membrane and center heating element, it acknowledges the difference in temperature readings between the two thermal sensors to offer precise measurements for gas flow. To ensure the stability of this thermal measurement principle, the CMOSens chip contains another integrated temperature sensor (outlined in Figure 1) that acknowledges any slow undesirable environmental temperature changes–assuming the gas and ambient environments are at near equilibrium.
SFM3019 Features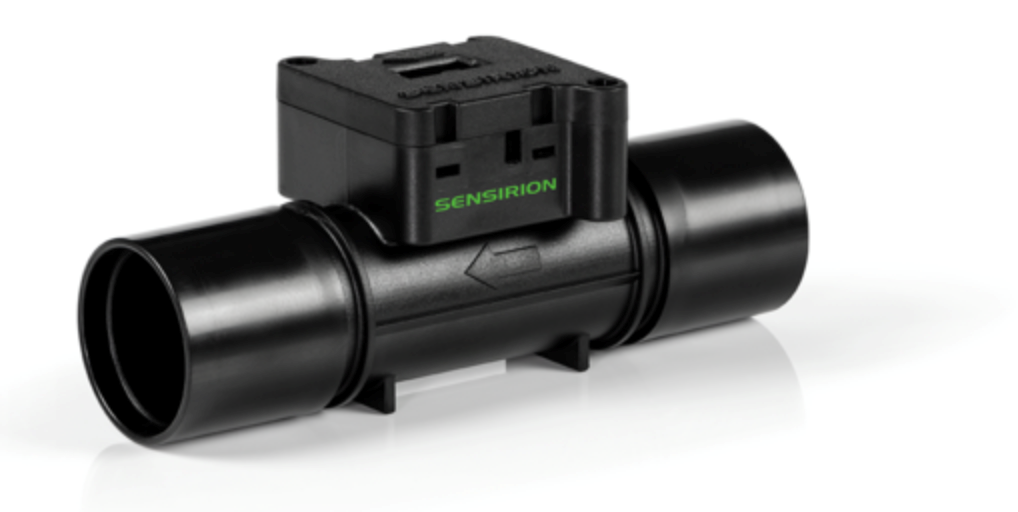 The SFM3019 sensor was designed for use in ventilators in response to the demand prompted by COVID-19. With rapid delivery time being essential, Sensirion opted for specific internal electronics to allow for a decrease in production time without compromising the performance or cost for customers. According to Sensirion, the SFM3019's quick time to market is attributed to them relying on approved parts that are readily available, a modular assembly approach, and high-volume throughput manufacturing. Additionally, the ability for their CMOSens Technology to leverage today's standard semiconductor process for their sensor ICs makes their products even more efficient during mass production and cost-competitive for customers.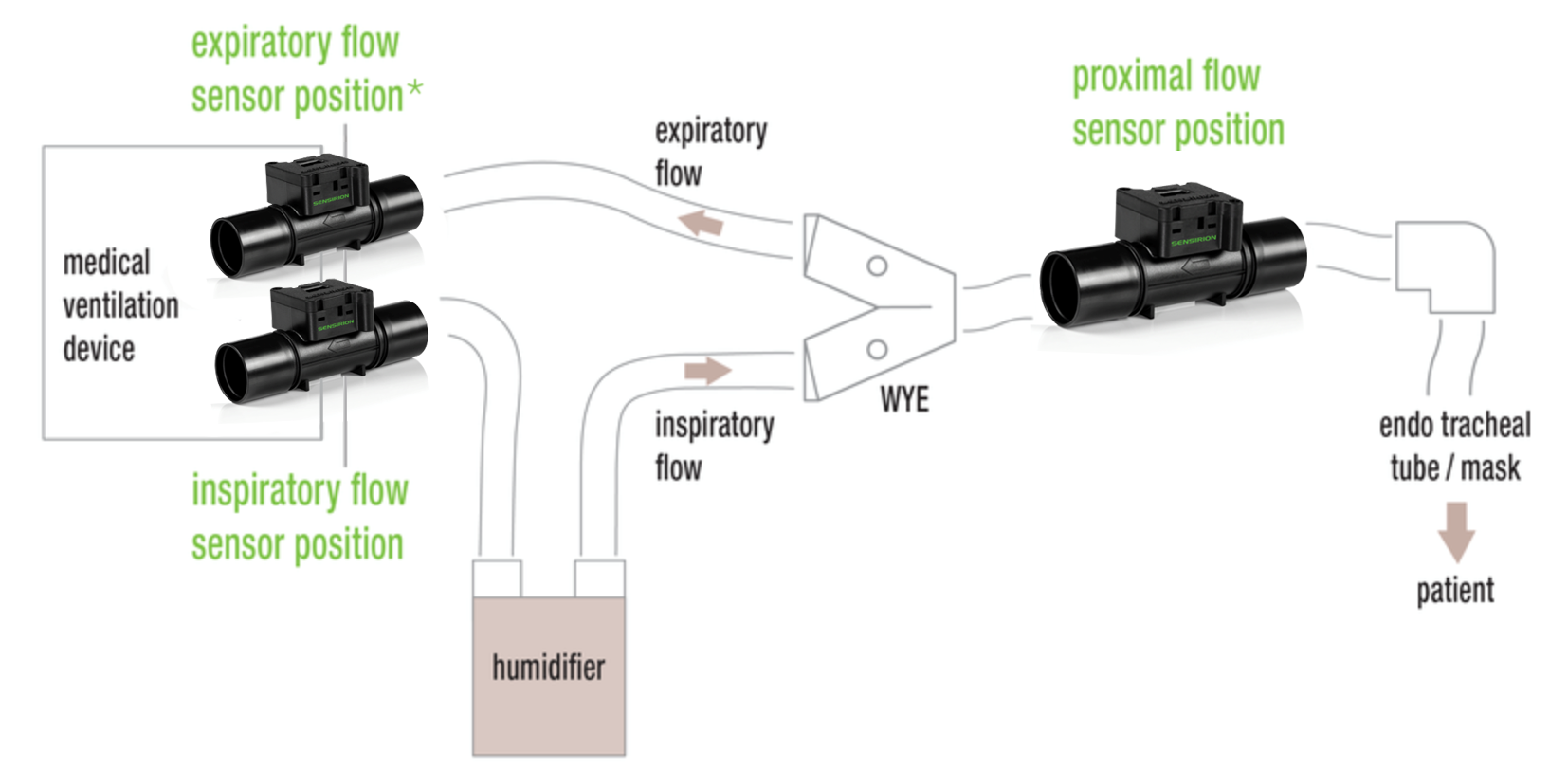 Figure 3: SFM3019 Ventilation Application - Sensor Block Diagram (*Expiratory flow sensor position: Water trap or heat and moisture exchange (HME) filter must be placed prior to the sensor to prevent water from damaging the sensor membrane.)
Leveraging the high-speed monitoring and stability advantages of Sensirion's CMOSens Technology, the SFM3019 can accurately measure gas flow at rates ranging from -10slm to 240slm. The patented technology of the sensor IC already ensures that the product will be properly calibrated and compensated for the effects of temperature–thus contributing to its reliability and long-term stability. The air channel of the meter that houses the sensor component is also able to sustain low pressure drops of < 5mbar @ 200slm, making it optimal for sensitive respiratory applications. Furthermore, the sensor meter utilizes the I2C protocol as its digital interface to output 16-bit data at 2kHz to any host microcontroller, while the mechanical design of the housing is specifically manufactured for simple integration with medical breathing apparatuses.
Conclusion
The continued rise of COVID-19 cases has emphasized the importance of flow sensors in medical ventilation, anesthesia, and respiratory applications. With the SFM3019 sensor, Sensirion has been able to address challenges brought on by the virus with the introduction of a product that is quick-to-manufacture, cost-sensitive, accurate, and highly-reliable for the many medical ventilators that are now in constant demand. It is with hope that Sensirion, along with other OEMs, continue to manufacture such designs that can rise to the challenges of supporting the health industry during these tumultuous times.
>> Get Started with Sensirion's SFM3019 Mass Flow Sensor <<
Why partner with Symmetry Electronics? Symmetry's technical staff is specially trained by our suppliers to provide a comprehensive level of technical support. Our in-house Applications Engineers provide free design services to help customers early in the design cycle, providing solutions to save them time, money and frustration. Contact Symmetry for more information.