SE868SY-D
High Precision Multi-Frequency and Multi-Constellation GNSS Receiver Module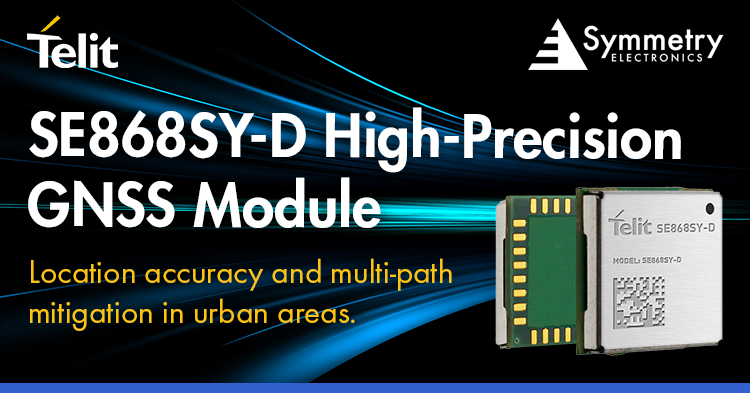 Integrating Sony's CXD5610 GNSS receiver LSI, Telit's SE868SY-D meets the growing demand for multi-frequency and multi-constellation GNSS receivers for battery-powered IoT trackers, wearables, and more. Offering dual-frequency capability (L1 and E1 and L5/E5), the SE868SY-D delivers significantly higher location accuracy than single-frequency devices and greatly reduces multipath effects in urban areas.
SE868SY-D Product Features
Backed by Telit's over 20 years of experience in GNSS applications–the compact SE868SY-D (11 x 11mm, 32-pad QFN package) is pin-out compatible with their JF2 and SE868 V3 and integrates Telit's proprietary commands for an easy transition between variants. Coming equipped with embedded Flash memory and an integrated LNA–the SE868SY-D delivers navigation data over a serial interface according to the NMEA protocol standard. Telit's unified command-set helps reduce design complexity while minimizing development costs.
SE868SY-D GNSS Receiver Module Key Benefits
Same form factor as JF2 and SE868 V3
Full GNSS compliance: GPS, GLONASS, Galileo, BeiDou and IRNSS/NAVIC
Dual-frequency for high location accuracy and multipath impact reduction
Industry-leading power consumption
Integrated LNA allows for use of passive antennas
Raw measurements for improved positioning
Telit SE868SY-D Common Applications
The high precision SE868SY-D is optimal for position reporting and navigation solutions in harsh environments. Common applications include:
Fleet management systems
E-mobility applications
Road tolling systems
Cellular base stations
Automotive telematics systems
Wearables sports training monitors
Pair Telit's SE868SY-D with Taoglas' AA.200 Antenna
When paired with Taoglas' compatible AA.200 MagmaX2, active multiband GNSS magnetic mount antenna, the SE868SY-D can benefit from highly improved position accuracy. The AA.200 antenna offers excellent gain and radiation pattern stability in areas with weaker signal strength. Taoglas' AA.200 includes LNAs and front-end SAW filters to reduce out-of-band noise while protecting GNSS receivers like the SE868SY-D from potential damage caused by nearby transmissions.