Revolutionizing Power Management for IoT Devices
Nordic Semiconductor's nPM1100 PMIC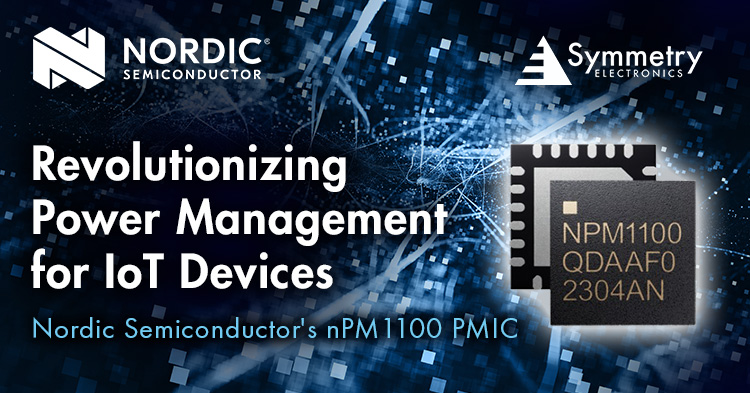 Nordic Semiconductor, a global leader in IoT solutions, is continuously providing innovation in wireless connectivity. Their nPM1100 is a power management integrated circuit (PMIC) that is designed for low-power wireless applications.
To ensure battery life efficiency, wireless devices require advanced power management solutions. The nPM1100 (Figure 1) is a complete power management solution in a compact 2.1x2.1 mm package, making it ideal for space-constrained devices such as wearables and IoT sensors. It also comes in a 4x4 mm QFN package, ideal for using lower-cost manufacturers in applications where small size is of less importance. Nordic's nPM1100 combines a dual-mode configurable output DC/DC buck regulator, an integrated battery charger, and several power management functions into a single chip, reducing the overall component count and footprint of the system. The nPM1100 enables convenient development, saves space, and reduces design cost and complexity.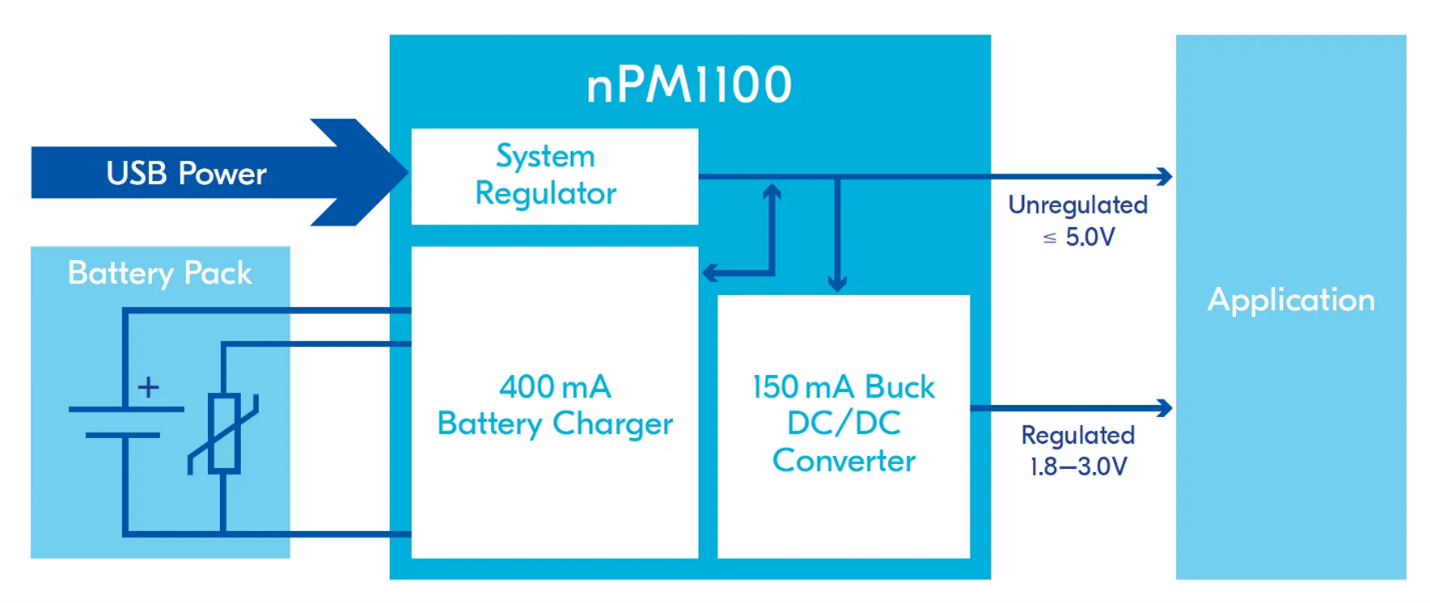 Figure 1: nPM1100 block diagram.
Key Features:
400 mA linear battery charger

Linear charger for lithium-ion/lithium-polymer batteries
Adjustable charge current from 20 mA to 400 mA
Selectable termination voltage of 4.1 V or 4.2 V

Also available in a 4.25 V or 4.35 V termination voltage hardware variant, order codes CAAB and QDAB

Automatic trickle, constant current, and constant voltage charging
Battery thermal protection
Discharge current limitation
JEITA compliant

Li-ion/Li-polymer USB battery charger with a high efficiency buck regulator
800 nA - Typical quiescent current
460 nA - Shipping mode quiescent current
Thermal protection
Input regulator

USB compatible current limit of 100 mA and 500 mA
4.1 V to 6.7 V input voltage range for normal operation
20 V overvoltage protection
Reverse current protection
3.0 V to 5.5 V system voltage output
USB port detection supporting the following types:

1.8 V to 3.0 V, 150 mA step-down buck regulator

Step-down buck regulator with up to 92% efficiency
Automatic transition between hysteretic and pulse width modulation (PWM) modes
Forced PWM mode for clean power operation
Pin-selectable output voltage (1.8 V, 2.1 V, 2.7 V, 3.0 V)
Soft start-up

LED drivers for charger state indication

5 mA low side LED driver for charging indication
5 mA low side LED driver for error indication

2.3 V to 4.35 V battery operating input range
2.1x2.1 mm WLCSP package

Suitable for two layer PCB design

4x4 mm QFN package

Suitable for single-layer trace routing
Key Applications:
Advanced wearables

Health/fitness sensor and monitor devices

Advanced computer peripherals and I/O devices

Mouse
Keyboard
Multi-touch trackpad

Interactive entertainment devices

Remote controls
Gaming controllers
Featured Products:
Key Benefits of Nordic Semiconductor's nPM1100
Overall, Nordic Semiconductor's nPM1100 is an innovative and highly integrated power management solution that addresses the growing demand for efficient and compact power solutions in low-power wireless devices. Its configurability also allows designers to optimize the power solution for their specific application, achieving the best balance between performance and power consumption. With the nPM1100, Nordic Semiconductor continues to demonstrate its commitment to providing cutting-edge wireless connectivity technology that empowers designers to create innovative and power-efficient IoT solutions. The key benefits of the nPM1100 include:
Combined USB battery charging and power supply with as little as 23mm2 PCB area including passives
100 % pin configurable, no software needed
Prolongs battery life of any nRF52® or nRF53® Series SoC based application using a rechargeable battery
Provides ample current for both the SoC and additional circuitry
nPM1100 Evaluation Kits
Nordic Semiconductor also conveniently offers performance-optimized evaluation kits for their nPM1100 PMICs. The nPM1100-EKHV and nPM1100-EK allow for the testing of nPM1100 PMIC capabilities with existing applications without custom hardware. Nordic's nPM1100 evaluation boards support charging batteries, power applications (with included headers and battery connectors), and require no software to operate.
Featured Products:
Subscribe
Stay up to date with industry and supplier news!
Browse