From Lantronix: Reducing Testing Cycles in Automotive Manufacturing

Challenge:
An OEM specializing in data acquisition, test and measurement solutions for the automotive industry needed an efficient way to quickly upload diagnostic data obtained during performance testing from their embedded data loggers to private servers while in the field. These devices effectively measure drivetrain, engine cooling, in-vehicle climate control and A/C systems in real time.
Additionally, vehicle testers needed to access this data from their smartphones and tablets via a software-enabled access point (SoftAP) during evaluations. Having the ability to access this information in real time enables testers to determine what factors may be influencing results and whether to run additional testing, thereby reducing test cycles in new car development.
Could Lantronix provide a secure IoT-enablement solution that would allow for the seamless transmission of information from data loggers to in-vehicle testers?


Essential Requirements:
Ethernet to Wi-Fi Bridging
Web Manager through SoftAP
Multicasting


Solution: The Lantronix PremierWave 2050 Enterprise Wi-Fi Module
The OEM embedded the Lantronix PremierWave® 2050 intelligent IoT gateway inside their data loggers connected to the vehicle's CAN bus. This compact IoT-enabling solution was ideal for the customer, who needed to maintain Ethernet to Wi-Fi bridging to connect to their remote applications. Equipped with SmartRoam, the PremierWave 2050 can automatically locate external routers and upload diagnostic data while in motion. The testers inside the vehicle could now view this information online through customizable Web APIs on their smartphone and tablet devices.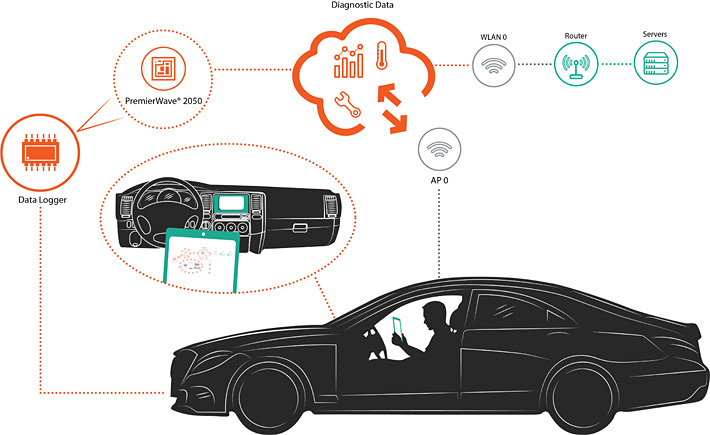 The PremierWave 2050's production-ready software stack enabled the OEM to quickly deploy their data loggers and avoid a time-consuming development process. Furthermore, the OEM required an efficient way to reduce Internet bandwidth usage for streaming data to client groups with multiple users simultaneously. This problem was solved by the PremierWave 2050's multicasting feature, which made it easy to manage clients by simply adding or dropping them from the grouped transmission.


Results:
Real-time in field data acquisition and measurement helped reduce the OEM's test cycle
The OEM could develop their networking interface quickly
Data could be accessed locally from remote servers
Ethernet to Wi-Fi bridging allowed the OEM to avoid a costly redesign of their data loggers


About the Lantronix PremierWave 2050
Reliable, Industrial Grade 802.11ac Wi-Fi Connectivity
The PremierWave 2050 series of embedded IoT gateways are designed specifically for sensitive, mission critical, industrial and commercial applications. With a production-ready software stack and modular RF certification, the PremierWave 2050 simplifies deployments and accelerates the availability of robust WLAN connected IoT products.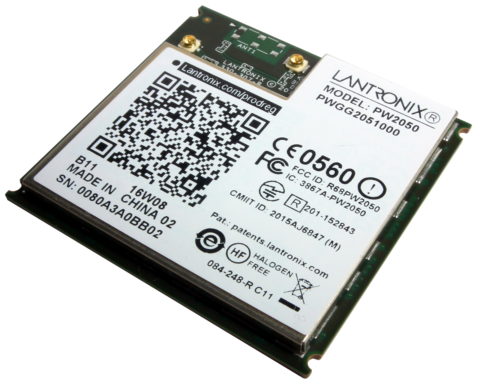 PremierWave 2050 Key Benefits:
Secure provisioning and network connectivity for enterprise backend
Scalable deployment within existing enterprise Wi-Fi infrastructure
Production ready wireless software stack offering optimal wireless performance, signal reliability and extended range
Perfect for Medical/Healthcare, Retail and Industrial Automation applications
Industrial grade design
5-Year limited warranty
Source: https://www.lantronix.com/resources/application-spotlights/reducing-testing-cycles-in-automotive-manufacturing/
Subscribe
Stay up to date with industry and supplier news!
Browse