From Digi: Geo IoT: Quickly and Easily Add GPS Location Services to Your IoT Application
GPS technology is now lean and mean. What used to take a giant piece of electronics can now be placed on the size of a small coin. This enables better tracking for devices and assets that may be smaller, such as rental bicycles, and it makes this a cost-effective option for a wide range of IoT applications. Location technology is also very easy to implement and the demand is high. Supply chain management, fleet operations, asset tracking and more all depend on GPS services.
This field of IoT product development, known as Geo IoT or IoT Geolocation, is seeing rapid growth today. The global positioning systems (GPS) market size is anticipated to reach USD 146.4 billion by 2025, according to a new study by Grand View Research, Inc., exhibiting a CAGR of 18.4% during the forecast period.
Some key applications and use cases for GPS technology include:
Fleet management: Companies with trucking fleets need to know that their vehicles are on the correct routes and need to be able to ensure that they arrive at their destinations on schedule.
Cold chain: The supply chain for refrigerated and temperature-sensitive produce, products, and pharmaceuticals is very actively using GPS technology to track and monitor valuable assets during transit. (Note: Digi International has an entire business unit devoted to this industry segment. For more information, see the SmartSense by Digi site.)
Rental products: This huge and growing market includes bike and scooter rentals, as well as machines and equipment.
Field to home office communications: The types of applications here include location reporting from field employees who do on-site work. For example, a service worker who needs to report an outage or request delivery of repair equipment can quickly submit a location.
Consumer products and wearables: Today consumer products that include GPS range from tracking of pets to personal belongings and theft-vulnerable items.
In other words, more and more applications are taking advantage of IoT Geolocation services to provide stakeholders with the confidence that assets are in the intended location, and the ability to track them if they are not.
This field of IoT product development, known as Geo IoT or IoT Geolocation, is seeing rapid growth today. The GPS market size is anticipated to reach USD 146.4 billion by 2025, according to a new study by Grand View Research, Inc. https://ctt.ec/491em+ #ConnectWithConfidence

Applications are also using this technology in new ways all the time, including a growing trend to use GPS for security purposes. For example, you can create a geo fence or perimeter around a location where you need a device to remain to thwart theft. Then if the asset is tampered with or moved, you can receive a notification. One specific use case is built-in security for rental items such as bikes and scooters. Geo IoT services can be built in so that if the item is moved from the rental kiosk, but not paid for, it can set off a loud alarm.


Using GPS technology with Digi XBee
Digi XBee devices are deployed in a massive number of applications, worldwide, from industrial IoT applications in mining, oil and gas to smart city applications, city lighting, precision farming and a vast number of robotics and automation applications in fleet management and supply chain. In support of our broad-based community of developers and system integrators, we are rapidly building out tools that simplify IoT application development and expedite time-to-market.
As a part of this ongoing initiative, we recognize the importance of location monitoring in IoT. In a location-enabled project design, the footprint of the device needs to remain as small as the GPS modules. Digi XBee cellular modules are perfect to pair with a GPS. These modules provide reliability, a small footprint, flexible communication protocols, and existing infrastructure to make adding GPS to your IoT product a breeze.
Additionally, Digi XBee devices come in a range of footprints and have varying power requirements to suit the full range of IoT applications. For example, some applications require extreme low power to manage battery usage, particularly in cellular and GPS applications that send and receive data rapidly. Digi provides a full suite of low power radio devices for these purposes, and offers wireless design services to support your application development.
Using the Digi GPS Daughter Board to Develop a Geolocation Application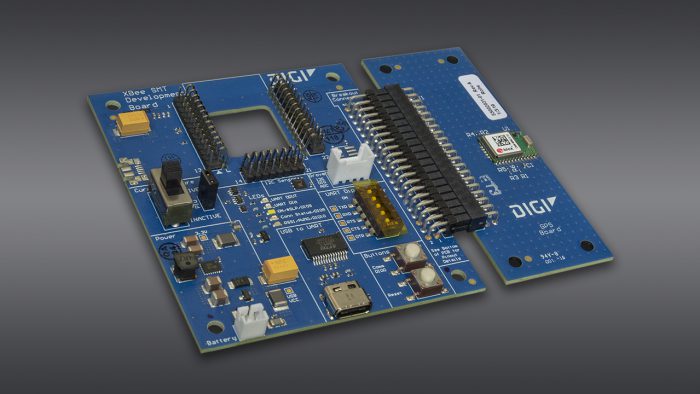 The Digi GPS Daughter Board is an expansion board designed specifically to work with the Digi XBIB-C Development Board. Based on the leading U-blox CAM-M8 GPS receiver, the Digi XBee GPS Daughter Board allows developers to quickly and easily add GPS location tracking to applications that incorporate Digi XBee modules.
Connecting GPS to a Digi XBee module is seamless, using the Digi GPS Daughter Board and Digi XBIB-C Development Board. Digi provides everything you need to develop and test your application:
Hardware: The GPS Daughter Board is mounted on a PCB that connects to the XBIB-C development board and interfaces with the proper Digi XBee pins required to connect with the GPS module on the board.
Software: Digi provides software libraries that can instantly work with the GPS module. This means you don't have to spend time trying to figure out how to develop code for the GPS Daughter Board.
Supporting code and content: From documentation to a support forum, knowledge base, examples and guides, and code libraries, Digi products include a wide range of resources to support your application development.
These tools and resources support development beyond your initial prototyping. Once the development and testing cycle is complete, and you transition from your Digi development kit to your own printed circuit board, Digi provides all of the necessary files to make it easy to integrate GPS into your PCB design. We do that by providing a complete set of reference design resources, including gerber files, schematic diagrams, and a MicroPython library with code examples for incorporating GPS – everything you need to reduce the amount of time you would otherwise spend digging through datasheets and online content to find interfacing documentation.
Source: https://www.digi.com/blog/geo-iot-quickly-and-easily-add-gps-location-services-to-your-iot-application/
Looking to integrate Digi products with your design? Our Applications Engineers offer free design and technical help for your latest designs. Contact us toda
Subscribe
Stay up to date with industry and supplier news!
Browse