Nordic Thingy:52 IoT Sensor Kit shortlisted for top prize by renowned 'creativity in electronics' awards program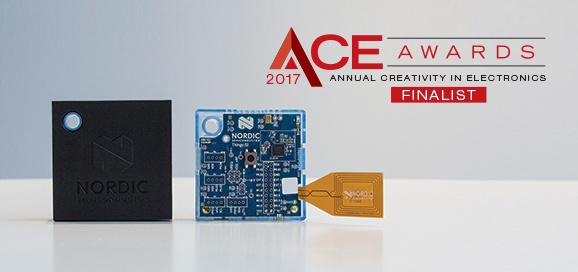 Nordic Semiconductor today announces that its Nordic Thingy:52® Bluetooth® Low Energy (Bluetooth LE) development kit has been shortlisted for a prize in the highly-competitive "Development Kit" category by the judges of the Annual Creativity in Electronics (ACE) Awards. The ACE Awards are a renowned awards program which showcases the industry's most innovative electronics products.
Nordic Thingy:52 is a development kit based on Nordic's nRF52832 Bluetooth LE System-on-chip (SoC) and S132 SoftDevice (RF software protocol). The development kit enables an app developer with no firmware coding expertise or high-level development tools to quickly design and demonstrate Internet of Things (IoT) devices, and associated mobile device and Internet apps.
The Development Kit category of the ACE Awards presents an opportunity for major electronics and semiconductor vendors to submit their engineering support tools for critical analysis before a panel of 15 experts. The kudos associated with being shortlisted and winning the award is significant and encourages intense competition between companies across the globe. In addition to Nordic, the 2017 shortlist includes three other major semiconductor vendors from the U.S. and Japan.
The ACE Awards are organized by UBM plc, a global business-to-business events organiser headquartered in London and are held in collaboration with leading U.S. electronics design journals EE Times and EDN. The awards present the best of the best in today's electronics industry, including the hottest new products, start-up companies, design teams, executives, and more. The awards also celebrate the promise of new talent and innovation, and pay tribute to the lifetime achievement of a top industry veteran whose contributions have had a demonstrable impact on technological, business, and cultural advancements in the world.
"[The] finalists are a testament to the incredible strides the electronics industry has made this year," said Suzanne Deffree, on behalf of the organizers. "The high caliber of submissions we received presented a unique challenge to our judges, and every one of our finalists should be immensely proud of the work they've accomplished that led to their selection."
The winner of the Development Kit category (and 16 other categories) of the ACE Awards will be announced at the San Jose Convention Center, Silicon Valley, CA, in conjunction with Embedded Systems Conference (ESC) on December 6, 2017.

Source: http://www.nordicsemi.com/eng/News/News-releases/Product-Related-News/Nordic-Thingy-52-IoT-Sensor-Kit-shortlisted-for-top-prize-by-renowned-creativity-in-electronics-awards-program
Why partner with Symmetry Electronics? Symmetry's technical staff is specially trained by our suppliers to provide a comprehensive level of technical support. Our in-house Applications Engineers provide free design services to help customers early in the design cycle, providing solutions to save them time, money and frustration. Contact Symmetry for more information.