Nordic Semiconductor-powered Bluetooth Low Energy wearable continuously measures, analyzes, and reports heart rate values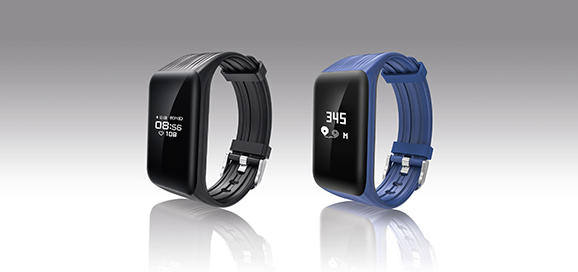 Nordic Semiconductor today announces that China-based Wearpai Technology Co., Ltd has integrated Nordic's award-winning Bluetooth® Low Energy (Bluetooth LE) nRF52832 System-on-Chip (SoC) in its 'K1' wearable. The product is designed for OEMs and enables developers with limited RF design experience to efficiently develop bespoke sports- and health-based wearables that monitor physiological parameters while displaying real-time feedback for consumers.
The K1's core function is to continuously monitor heart rate values using photoplethysmography, a technique which employs green and infrared (IR) LEDs to measure the varying absorption of light at the wrist as blood flows through it. The K1 can also provide real-time analysis of other physiological parameters and physical activities. For example, the wearable can track calories, sleep patterns, steps, and walking/running distance, enabling OEM developers flexibility to select which parameters are most important for their target audience. In addition, the wearable displays the time, date, and messages/caller ID when wirelessly linked to the user's smartphone. Either the IP68-waterproof smart bracelet or the user's smartphone can be used to locate the other device should it be temporarily misplaced.
Developers can use Wearpai Technology's open Application Programming Interface (API) to customize applications for the K1, as well as create branded iOS and Android mobile apps to suit their own requirements.
Nordic's nRF52832 SoC provides Bluetooth LE connectivity between the wearable and a Bluetooth 4.0 (and later) iOS or Android smartphone to transfer physiological data to the smartphone or relay message/caller ID from smartphone to wearable. From the smartphone, users can also access more detailed information about their physical condition via Wearpai Technology's Wearfit 1.0 or Wearfit 2.0 companion app.
Supported by the Nordic SoC's low power consumption characteristics, the K1's rechargeable Lithium-ion battery can last for approximately one week of average use or up to 10 days in low power mode.
Nordic's nRF52832 Bluetooth LE SoC, a member of Nordic's sixth generation of ultra low power (ULP) wireless connectivity solutions, combines the 64MHz, 32-bit ARM® Cortex® M4F processor with a 2.4GHz multiprotocol radio (supporting Bluetooth 5, ANT™, and proprietary 2.4GHz RF software) featuring -96dB RX sensitivity, with 512kB Flash memory and 64kB RAM. When launched, the SoC was the world's highest performance single-chip Bluetooth LE solution.
The SoC is supplied with Nordic's S132 SoftDevice, a Bluetooth 5-certified RF software protocol stack for building advanced Bluetooth LE applications. The S132 SoftDevice supports Central, Peripheral, Broadcaster, and Observer Bluetooth low energy roles, supports up to twenty connections, and enables concurrent role operation.
"We selected the nRF52832 SoC to take advantage of its superior ultra low power consumption and performance," says Jobs Chen, CEO at Weapai Technology. "Nordic's Bluetooth LE technology extends the K1's standby time and prolongs the service life of its lithium battery, which is essential for any sports- and health-based wearable.
"Other factors which encouraged us to work with Nordic included the company's large team of skilled application engineers, rich array of options for peripheral devices and time in the ultra low power wireless market."
Source: http://www.nordicsemi.com/eng/News/News-releases/Product-Related-News/Nordic-Semiconductor-powered-Bluetooth-Low-Energy-wearable-continuously-measures-analyzes-and-reports-heart-rate-values
Subscribe
Stay up to date with industry and supplier news!
Browse