Nordic Semiconductor nRF52 Series-based SIM card offers Bluetooth low energy wireless solution for point of sale terminal providers
Nordic Semiconductor today announces that Trondheim, Norway-based smart payment solutions company, AblePay Technologies, has selected Nordic's award-winning nRF52832 Bluetooth® low energy System-on-Chip (SoC) for its BlueSIM2 smart card, designed for integration into point of sale (POS) payment terminals to enable Bluetooth low energy contactless payment from Bluetooth 4.0 (and later) smartphones.
BlueSIM2 is designed for companies providing POS payment solutions, with the SIM card enabling them to quickly, easily, and economically rollout Bluetooth low energy as a payment platform complementing existing merchant payment infrastructure. As BlueSIM2 comes in a SIM card form factor, it is simply inserted into the Secure Access Module (SAM) slot in existing payment terminals, and enables payment via compatible smartphones using bidirectional Bluetooth low energy connectivity provided by the nRF52832 SoC.
"Bluetooth low energy has become the standard for [low power] wireless communication in all smartphones, and something we carry with us every day," says Espen Krangnes, AblePay Technologies, VP Sales and Marketing. "Consumers want to pay with their smartphones, and are looking to enhance and complement their offline and in-store purchasing.
"Bluetooth low energy offers a better user experience and infrastructure than competing solutions. Bluetooth low energy gives providers a cross-platform payment solution with enhanced user features such as Bluetooth low energy beacons, customer loyalty programs, coupons, and more to enrich and enhance the offline and in-store purchasing experience. These systems are currently being rolled out in the Nordics, and they are setting the standard for the rest of the world."
Nordic's nRF52832 Bluetooth low energy SoC, a member of Nordic's sixth generation of ultra low power (ULP) wireless connectivity solutions, combines a 64MHz, 32-bit ARM® Cortex® M4F processor with a 2.4GHz multiprotocol radio (supporting Bluetooth 5, ANT™, and proprietary 2.4GHz RF software) featuring -96dB RX sensitivity, with 512kB Flash memory and 64kB RAM. When launched, the SoC was the world's highest performance single-chip Bluetooth low energy solution.
The nRF52832 SoC has also been engineered to minimize power consumption resulting in a Bluetooth low energy solution which offers 58 CoreMark/mA, up to twice as power efficient as competing devices.
The SoC is supplied with Nordic's S132 SoftDevice, a Bluetooth 4.2 qualified RF software protocol stack for building advanced Bluetooth low energy applications. The S132 SoftDevice supports Central, Peripheral, Broadcaster, and Observer Bluetooth low energy roles, supports up to twenty connections, and enables concurrent role operation.
"We chose the nRF52832 SoC because of its high level of integration, small form factor, user-friendliness, and forward compatibility with Bluetooth 5," says Krangnes. "It provides a solid platform for us to deliver unique solutions to our customers."
Source: http://www.nordicsemi.com/eng/News/News-releases/Product-Related-News/
Nordic-Semiconductor-nRF52-Series-based-SIM-card-offers-Bluetooth-low-energy-wireless-solution-for-point-of-sale-terminal-providers
Contact Symmetry Electronics at 866-506-8829, email us or start a live chat and we'll be glad to help you with your projects!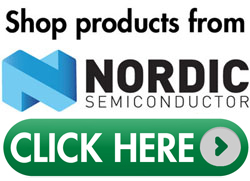 Why partner with Symmetry Electronics? Symmetry's technical staff is specially trained by our suppliers to provide a comprehensive level of technical support. Our in-house Applications Engineers provide free design services to help customers early in the design cycle, providing solutions to save them time, money and frustration. Contact Symmetry for more information.