Nordic Semiconductor Bluetooth low energy solution supports 'world first' directed illumination smart pendant lamp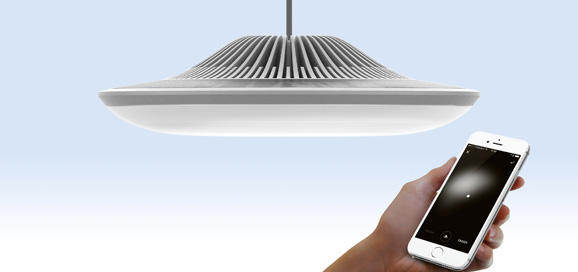 Nordic Semiconductor today announces that Vienna, Austria-based smart lighting company, Luke Roberts, is employing Nordic's award-winning nRF52832 System-on-Chip (SoC) to provide Bluetooth® low energy wireless connectivity between the "Luke Roberts Smart Lamp" and the user's Bluetooth 4.0 (and later) smartphone or tablet.
The Nordic Bluetooth low energy-powered lamp wirelessly connects to the user's smartphone or tablet, allowing the user to control the direction, brightness, and color of the light through a low-latency, tap-and-drag 'paint' gesture using a companion app. Lamp settings can be saved enabling a single tap to reset the light to a specific ambience. Proximity detection via infrared (IR) sensors ensures the light switches off when a person leaves the room and switches back on when they return.
In operation, the single pendant lamp employs 300 high-power LEDs and custom optics to alter the color and direction of light. For example, the user can direct warm white light onto a table for dinner and simultaneously choose a soft, cool-white ambient glow for the rest of the room. In addition, the colored uplight can project various ambient light settings towards the ceiling.
The nRF52832 SoC's 64MHz, 32-bit ARM® Cortex® M4F processor supports a "smart learning" algorithm which learns from the user's behavior at specific times of the day and days of the week, enabling immediate selection of preferred light settings when the light is switched on. The SoC's 512kB Flash memory stores saved light settings so that they can be automatically synchronized to additional users' smartphones.
Nordic's nRF52832 Bluetooth low energy SoC, a member of Nordic's sixth generation of ultra low power (ULP) wireless connectivity solutions, combines the ARM M4F processor with a 2.4GHz multiprotocol radio (supporting Bluetooth 5, ANT™, and proprietary 2.4GHz RF software) featuring -96dB RX sensitivity, with 512kB Flash memory and 64kB RAM. When launched, the SoC was the world's highest performance single-chip Bluetooth low energy solution.
The SoC is supplied with Nordic's S132 SoftDevice, a Bluetooth 4.2 qualified RF software protocol stack for building advanced Bluetooth low energy applications. The S132 SoftDevice supports Central, Peripheral, Broadcaster, and Observer Bluetooth low energy roles, supports up to twenty connections, and enables concurrent role operation.
"We initially chose the Nordic nRF52 Series SoC for its enhanced RF capabilities―including Bluetooth 5 support, good link budget, and on-chip Balun―and processing power. These attributes enabled us to implement all the features we envisioned without compromise due to technical constraints," says Lukas Pilat, Co-founder of Luke Roberts. "Moreover, Nordic's Software Development Kit [SDK] and the clean separation of Bluetooth stack software [SoftDevice] from our application code simplified the design process.
"As a start-up, the choice of design partner and chip is a tough one, as a wrong decision might be fatal for the entire company. Nordic's proven technology and start-up friendly approach gave us confidence in our choice," explains Pilat. "For example, Nordic's reference designs simplified hardware design and on the software side, the open-source friendliness of Nordic also proved an advantage. We also realized we could rely heavily on Nordic's firmware and application code examples without needing to 'reinvent the wheel' each time."
The Luke Roberts Smart Lamp will be commercially available by the end of 2017 for both consumers and larger commercial lighting installations such as offices, bars, or restaurants across Europe and North America.
Source: http://www.nordicsemi.com/eng/News/News-releases/Product-Related-News/Nordic-Semiconductor-Bluetooth-low-energy-solution-supports-world-first-directed-illumination-smart-pendant-lamp
Contact Symmetry Electronics at 866-506-8829, email us or start a live chat and we'll be glad to help you with your projects!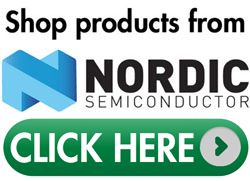 Subscribe
Stay up to date with industry and supplier news!
Browse