Nordic's nRF52840 multiprotocol SoC is now Thread certified and enables simultaneous Thread and Bluetooth 5 connectivity for the first time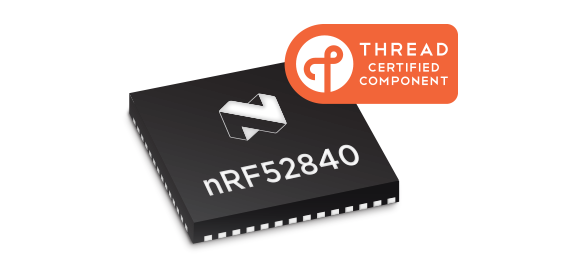 Nordic Semiconductor today announces that its latest multiprotocol SoC, the nRF52840, which supports both Bluetooth® 5 (Bluetooth low energy) and IEEE 802.15.4 (the foundation of the Thread networking standard together with the OpenThread stack) is now Thread 1.1 Certified. The nRF52840 SoC passed all Thread certification tests while supporting Bluetooth 5 connectivity to a central device. The tests demonstrated the nRF52840 SoC's capability to support applications that concurrently use Thread and Bluetooth 5 wireless networks (eliminating the need to disconnect from one network before connecting with the other).
Nordic's nRF52840 SoC is the only multiprotocol SoC on the market that offers this concurrent Thread and Bluetooth 5 support. The capability is enabled by the SoC's Bluetooth low energy and Thread 'Dynamic Multiprotocol' feature (see below) which allows simultaneous support of Nordic's S140 v5 SoftDevice (the Bluetooth low energy protocol stack for the nRF52840 SoC and part of Nordic's nRF5 Software Development Kit (SDK) for Thread) and the OpenThread RF protocol stack. OpenThread is the first open-source Thread-certified implementation of the Thread networking protocol, released by Nest Labs, and to which Nordic Semiconductor actively contributes R&D expertise.
For developers, this means that any wireless sensor or product that employs a Nordic nRF52840 SoC can now not only quickly and easily gain Thread Certification, but also be interoperable with (and be commissioned, controlled, or managed by) a Bluetooth v4.0 (and later) wireless technology device, benefiting from both wireless technologies at the same time.
"In operation, the nRF52840 can effectively work as a bridge between Thread and Bluetooth 5 networks, and can communicate with, for example, both a smartphone over Bluetooth 5, and a Thread wireless sensor, enabling data to be exchanged between them without going via the Cloud," says Pär Håkansson, a Product Marketing Manager at Nordic Semiconductor.
"What's more, although this isn't a truly simultaneous connection, Nordic's R&D teams have engineered the process to be so quick and seamless that developers can consider it as practically simultaneous when designing their applications. Better yet, all the 'heavy lifting' to support this connectivity is hidden within the lower-level drivers of the Nordic S140 v5 SoftDevice eliminating the need for developers to have to worry about it."
Thread was designed to create the best way to connect and control products where people live and work. The protocol includes robust security (smartphone-grade authentication and AES encryption), low power battery-friendly operation, reliability, scalability, and support for a developer-friendly IP-based (IPv6 with 6LoWPAN) mesh networking.
The non-profit Thread Group states that it is focused on making Thread the foundation for the IoT in the home and beyond by educating product developers, builders, and consumers on the unique features and benefits of Thread, while ensuring a positive experience through rigorous, meaningful product certification. Prime home IoT target applications for Thread include: home automation, appliances, access- and climate-control, safety, lighting, healthcare, and security systems.
"Nordic Semiconductor continues to be a valuable and committed contributor to OpenThread," comments Jonathan Hui, Technical Lead and Original Architect of OpenThread at Nest. "And the expeditious path of nRF52840's Thread certification is a testament to the benefits of OpenThread's open-source approach, portability, and optimized footprint."
"Nordic Semiconductor has been a long and active participant in the Thread Group and is making meaningful contributions towards helping Thread deliver on its potential," adds Grant Erickson, President of the Thread Group. "We're very pleased to see Nordic introduce their Thread-certified nRF52840 SoC to satisfy growing demand for low-power, IP-based mesh networks such as Thread, which seamlessly connect hundreds of devices to each other, to mobile devices, and directly to the cloud, without compromising battery life."
"We see Thread as one of the leading wireless technologies currently emerging in the home IoT space," comments Geir Langeland, Nordic Semiconductor's Director of Sales & Marketing. "That's why we've decided to strategically invest our world-leading ultra-low power wireless R&D expertise into contributing to the development of the OpenThread software stack while ensuring our nRF52840 multiprotocol SoC became Thread 1.1 Certified in addition to its full Bluetooth 5 certification. Home IoT product developers now have access to a powerful SoC, based on a proven architecture, that supports the most complex Bluetooth 5 and Thread IoT applications."


About Dynamic Multiprotocol
The nRF52840 SoC supports Bluetooth low energy, IEEE 802.15.4 (Thread), and other RF software protocols. Previously, Nordic's nRF5 SDK for Thread implemented a switching solution for multiprotocol support of Bluetooth low energy and Thread. A switched solution for such support operates by disabling the operational protocol before activating the other protocol. The technique is simple to implement but is unable to support concurrent protocol operation.
The latest release of Nordic's nRF5 SDK for Thread (version 0.10.0) addresses that downside by introducing a Dynamic Multiprotocol solution for concurrent operation of Bluetooth low energy (Nordic's S140 v5 SoftDevice (Bluetooth low energy RF protocol stack)) and Thread (OpenThread protocol stack).
The Dynamic Multiprotocol ensures the radio hardware's operational time is shared between the protocols - ensuring both remain connected. Transmitting and receiving data using one protocol does not interfere with the other link during concurrent support.
Nordic's firmware automatically looks after the time-sharing between protocols. The developer is freed-up to code the Bluetooth low energy functionality of a multiprotocol application as if it was solely leveraging Bluetooth low energy, and the Thread part of the multiprotocol application in the same way.
Source: http://www.nordicsemi.com/eng/News/News-releases/Product-Related-News/Nordic-s-nRF52840-multiprotocol-SoC-is-now-Thread-certified-and-enables-simultaneous-Thread-and-Bluetooth-5-connectivity-for-the-first-time
Subscribe
Stay up to date with industry and supplier news!
Browse