Nordic Semiconductor-powered Bluetooth low energy module provides smart-home OEMs with processing power, efficiency, and higher RF sensitivity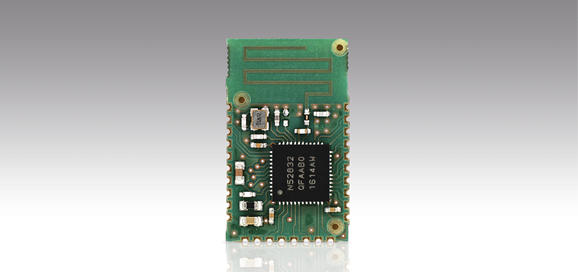 Nordic Semiconductor today announces that Grenoble, France-based smart home solutions developer, Linkio, has selected Nordic's nRF52832 Bluetooth® low energy System-on-Chip (SoC) for its LI052 Bluetooth low energy module. The Bluetooth 5-ready, ultra low power LI052 module is designed for simple integration into smart home appliances—without the OEM requiring RF design expertise—to enable wireless connectivity between the appliance, other Bluetooth low energy-equipped devices, and Bluetooth 4.0 (and later) smartphones or tablets.
The nRF52832 SoC's high-performance 64MHz, 32-bit ARM® Cortex® M4F processor, 512kB Flash memory and 64kB RAM allows the compact 21.1 by 12.7 by 2.7mm form factor module to support even the most complex wireless home automation applications. The SoC also integrates a 2.4GHz multiprotocol radio with 96dB RX sensitivity. The SoC enables the LI052 module to provide up to 20 general-purpose input/outputs (GPIOs), an integrated antenna, and +4dBm output power to boost RF range. It is also qualified over a -40° to 85°C industrial temperature range.
The complete and integrated solution includes not only the LI052 module hardware, but also Linkio's proprietary Bluetooth low energy-based mesh software, a customizable iOS- and Android-compatible app, and a design integration service. Linkio's mesh software—running on the Nordic SoC—provides long-range bidirectional Bluetooth low energy wireless communication with other LI052-powered smart home appliances in the self-managed network, controlled via the Linkio app.
"The nRF52832 SoC provided the critical hardware and firmware we required for the module," says Bruno Deguet, Linkio Co-founder and CTO. "For example, the SoC's 12 PWM GPIOs ensure the module can control LED smart lights, the powerful processor and generous memory can support our complex mesh software, and the radio's sensitivity ensures good range. Features such as a full range of programmable on-chip analog and digital peripherals that can operate autonomously to reduce demand on the processor's resources and save power were also advantageous.
"In addition, Nordic's S132 SoftDevice's [RF software protocol 'stack'] ability to provide concurrent Bluetooth Central and Peripheral role support was key, and the nRF5 Software Development Kit (SDK) with a very large set of examples enabled us to easily experiment with the features we required for our solution."
Nordic's nRF52832 Bluetooth low energy SoC, a member of Nordic's sixth generation of ultra low power (ULP) wireless connectivity solutions, supports Bluetooth 5, ANT™ and proprietary 2.4GHz RF software and was the world's highest performance single-chip Bluetooth low energy solution upon launch. The SoC delivers up to 60 percent more generic processing power, offering 10 times the Floating Point performance and twice the DSP performance compared to competing solutions.
The nRF52832 SoC has also been engineered to minimize power consumption and employs a fully-automatic power management system offering processing performance of 58 CoreMark/mA, up to twice as power efficient as competing devices. The SoC is supplied with Nordic's S132 SoftDevice, a Bluetooth 4.2 qualified stack for building advanced Bluetooth low energy applications. The S132 SoftDevice supports Central, Peripheral, Broadcaster and Observer Bluetooth low energy roles, provides up to eight connections, and enables concurrent role operation.
Source: https://www.nordicsemi.com/eng/News/News-releases/Product-Related-News/Nordic-Semiconductor-powered-Bluetooth-low-energy-module-provides-smart-home-OEMs-with-processing-power-efficiency-and-higher-RF-sensitivity
Contact Symmetry Electronics at 866-506-8829, email us or start a live chat and we'll be glad to help you with your projects!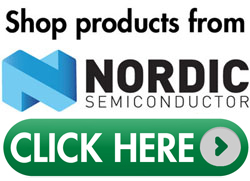 Subscribe
Stay up to date with industry and supplier news!
Browse