Nordic-powered Bluetooth low energy development platform simplifies design of mesh wireless lighting control solutions for OEMs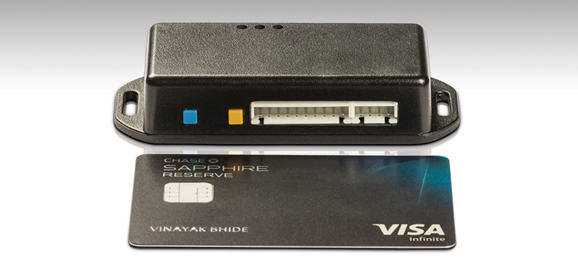 Nordic Semiconductor today announces that Los Gatos, CA-based, Shoreline IoT, has selected Nordic's award-winning nRF52832 Bluetooth® low energy System-on-Chip (SoC) for its ICAST IoT Bridge, a key component in a Bluetooth low energy development platform for OEMs designing mesh-based and fully interoperable wireless lighting control solutions for enterprise buildings, schools, greenhouses, indoor farms, and many other commercial lighting applications.
In addition to Nordic's nRF52832 SoC, the tiny credit card-sized ICAST IoT bridge includes on-board Wi-Fi for Internet connectivity and several interfaces to connect with legacy and new Title 24 compliant lighting systems. The ICAST bridge comes loaded with a rich suite of software including Nordic's Bluetooth low energy mesh software protocol ("stack"), Wi-Fi stack, security, industry standard IoT protocols like MQTT/HTTP, real time Cloud connectivity, and some sample lighting apps. The OEMs can customize the software and integrate their custom commissioning algorithms, sensor data, and lighting application to use ICAST bridge as a Smart Lighting Area Controller (SLAC).
The nRF52832 SoC provides bi-directional Bluetooth low energy connectivity between Bluetooth low energy-enabled smart lighting fixtures, wall switches, and other wireless devices—for example, daylight or occupancy sensors—and the ICAST IoT Bridge.
Shoreline IoT has also developed an iOS- and Android-compatible sample app, allowing OEMs to provide their customers with the ability to perform Cloud-based monitoring and control of their smart lighting network and sensor data via a third party IoT Cloud platform. Multiple ICAST IoT Bridges can also be interconnected over a Wi-Fi network to allow OEMs to build scalable solutions.
Thanks to its powerful 64MHz, 32-bit ARM® Cortex® M4F microprocessor, 512kB Flash memory and 64kB RAM, the nRF52832 SoC can run the Bluetooth 5 (Bluetooth low energy) RF protocol software, the mesh provisioning application software, and Shoreline IoT's wireless sensor pack (WSP) application software, which enables legacy sensors to connect to the mesh network and be controlled via the ICAST IoT Bridge. The device also offers additional interfaces to control legacy fixtures (for example, 0-10V, 4-20mA, RS485, and digital I/O), and communicate with other building control devices, such as for heating, ventilation, air conditioning (HVAC) or security applications.
Nordic's nRF52832 Bluetooth low energy SoC, a member of Nordic's sixth generation of ultra low power (ULP) wireless connectivity solutions, combines an ARM M4F processor with a 2.4GHz multiprotocol radio (supporting Bluetooth 5, ANT™, and proprietary 2.4GHz RF software) featuring -96dB RX sensitivity, with large Flash memory and RAM allocation. When launched, the SoC was the world's highest performance single-chip Bluetooth low energy solution.
The SoC is supplied with Nordic's S132 SoftDevice, a Bluetooth 5 qualified RF software protocol stack for building advanced Bluetooth low energy applications. The S132 SoftDevice Central, Peripheral, Broadcaster and Observer Bluetooth low energy roles, supports up to twenty connections, and enables concurrent role operation.
"We opted for a Bluetooth low energy-based solution as it has the advantage of being interoperable with smartphones and tablets, making it easy to provision, commission, and control via mobile devices," says Kishore Manghnani, Shoreline IoT's President and Co-founder. "Specifically, we selected Nordic's nRF52832 SoC because it had ample memory resources to run Bluetooth 5, Bluetooth mesh, the Bluetooth provisioner, and our application software.
"Furthermore, the Nordic development environment is very flexible and well architected. This made it easy for Shoreline to easily integrate its own application software with Nordic's Bluetooth low energy stack, and customize it for OEMs. It was a case of the best product combined with the best technical and sales support."
The ICAST IoT development platform is currently being sampled to leading lighting OEMs.
Source: https://www.nordicsemi.com/eng/News/News-releases/Product-Related-News/Nordic-powered-Bluetooth-low-energy-development-platform-simplifies-design-of-mesh-wireless-lighting-control-solutions-for-OEMs
Subscribe
Stay up to date with industry and supplier news!
Browse