NimbeLink Demos LIVE LTE M-based Asset Trackers in States across America at MWC Americas
To demonstrate the availability of the Cat M1 cellular network across the nation, NimbeLink® has placed active asset trackers to report location data from across the nation. The devices will send live, real-time data to NimbeLink's secure cloud platform, and the data will be on display at Mobile World Congress Americas in San Francisco on Sept. 12 through Sept. 14.
Using Verizon's nationwide Cat M1 network, the NimbeLink Asset Tracking Solution will report real-time locations to displays at MWC. Displays can be seen in the NimbeLink booth# N.147 as well as those of NimbeLink partners in the development of the device including Sequans, Taoglas, uBlox, and Verizon.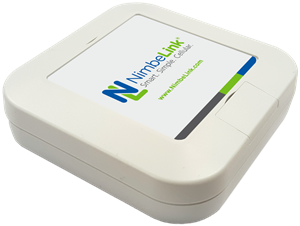 This cellular-based Asset Tracking Solution is more than just a GPS locator. It is part of a robust solution stack with device, cloud, and application components. NimbeLink has built accelerometer, temperature, and GPS sensors into the device and the NLinksdevice management platform ensures secure communication to the device with configuration capabilities. OEMs can use either NimbeLink's cloud interface or connect to their own platforms for reporting and analytics.
Powerful Cat M1 features like PSM and eDRX reduce power requirements and extend longevity in the field allowing the NimbeLink Asset Tracker to last up to seven years on a single set of four AA batteries.
The NimbeLink Asset Tracking Solution can be attached to just about anything, making it ideal for monitoring a wide range of assets—a pallet, a shipment in transit, a piece of valuable equipment, or items in storage.
"This easy-to-use Asset Tracking Solution is an incredibly powerful product and, with its long battery life enabled by the M1 Network, it will suit a wide range of applications," says NimbeLink CEO, Scott Schwalbe.
View the active dashboard here: http://nimbelink.com/asset-tracker-demo/
Source: http://nimbelink.com/press-releases/asset-trackers-demo-mwc-americas/
Subscribe
Stay up to date with industry and supplier news!
Browse