Murata's World's Smallest LoRa Module | Symmetry Blog
LoRa is becoming more widely adopted in the IoT sphere due to its optimal low-power and long-range wireless capabilities. As a result, an abundance of companies are developing new LoRa-compatible products to meet the demand. Murata is no exception, as they plan to launch what they are describing to be the "World's Smallest LoRa Module". The Type 1SJ (LoRaWAN™ Certified) module, measuring at only 10.0mm x 8.0mm x 1.6mm, will check all the boxes in delivering the most crucial IoT application features–cost, size, range, power performance, and security.
Physical Layer, Processing, and Peripherals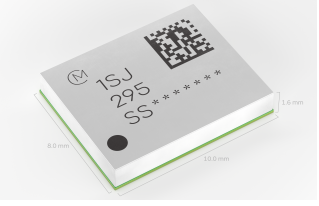 This Low Power Wide Area (LPWA) module supports the ISM bands from 868MHz to 930MHz (frequencies that are deployed in the United States, Europe, and Asia). The Type 1SJ module hosts Semtech's latest SX1262 sub-GHz radio frequency transceiver that is responsible for handling the physical layer of the LoRa protocol. In conjunction with the transceiver, the Type 1SJ also hosts the 32-bit STM32L0 MCU from STMicroelectronics. This MCU employs the popular ARM-Cortex-M0+ CPU, a staple amongst cost-sensitive, yet very capable embedded applications. The module provides enough storage space for the application code with its integrated 192kB of Flash memory and 20kB of RAM. For communication interfaces, the device supports I2C, SPI, UART, USB, and ADC, along with GPIOs for other peripherals.
Low Power Performance
Being that power consumption is crucial for any remote wireless node, the Type 1SJ employs various low power modes that keeps the Real Time Clock (RTC) running while only drawing around 1.3uA of current. During transmission at maximum power of +22dBm, the device consumes a max TX current of 118mA. On the other hand, the power consumption is 15.5mA – 20mA when the module is in receive (RX) mode and the MCU is active. The Type 1SJ can be powered from a single voltage supply rail of up to 3.9V, thus making it ideal for any application that is required to operate for a long time on a single battery.
Security
With the increasing popularity of LoRa, Murata has chosen to address the issue of security when it comes to their modules. Murata has partnered up with Trusted Objects to enhance the security features for any of their devices running on the ARM MCU platform. As an option, the Type 1SJ can be flashed with Trusted Object's "TO-Protect Library" to support features such as encrypted memory and secure connectivity to hinder potential cyber threats.

Applications
The release of the Type 1SJ module will place Murata as a notable player in the LoRa tech world. The Type 1SJ module aims to meet the important performance requirements of size, power, and security that is crucial for any demanding application. With the device's combination of small size and long transmission range, the Type 1SJ is ideally suited for any sensor node used in asset tracking, agriculture, smart city, smart metering, industrial, and other IoT applications.