From Murata: Murata develops and starts volume production of world's smallest SAW duplexers, filtersContributing to Denser Circuit Design and Enhanced Smartphone Functionality
Murata Manufacturing Co., Ltd. (head office: Nagaokakyo-shi, Kyoto; Chairman of the Board and President: Tsuneo Murata) has developed and started volume production of the world's smallest*1 SAW*2 duplexers*3—the SAYAV Series, SAYARV Series, and SAYAP Series; and SAW filters—the SAFFW Series (hereinafter "the Products").
*1 Based on an internal study, as of the end of June 2019.
*2 An acoustic wave traveling along the surface of a material (SAW: Surface Acoustic Wave).
*3 Devices that allow transmitters and receivers to share a common antenna while electronically splitting the transmission and receiving lines.
The steady improvement in smartphone performance is driving the demand for more compact electronic components. In particular, there is an acute need for smaller SAW devices that transmit and receive signals at certain frequencies. In order to support multiple band operation, middle-class smartphones for specific regions use 14 or 15 SAW devices while premium models with global compatibility may adopt as many as 30 to 40 SAW devices. By fully revising the chip design and packaging approach making use of its own proprietary design and miniaturization technology, Murata has developed the Products with characteristics equal or superior to those of conventional products while simultaneously achieving the world's smallest size.
Highlights
The key features of the Products are as follows:
The World's Smallest SAW Devices
The SAYAV Series, SAYRV Series, and SAYAP Series of SAW duplexers supporting the 700MHz to 2.6GHz bands are packaged in 1.6mm x 1.2mm (length x width) form factor, and SAFFW Series of SAW filters are packaged in a 0.9mm x 0.7mm (length x width) form factor, making the duplexers approx. 24% and the filters approx. 37% smaller than conventional models*4. This makes possible significant reductions in mounting area on electronic circuits and contributes to high-density circuit design.
*4 Compared with a 1.8mm x 1.4mm SAW duplexer and a 1.1mm x 0.9mm SAW filter, respectively

Size comparison of the new and conventional models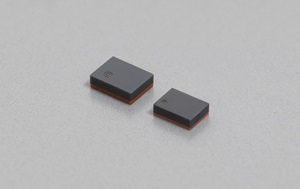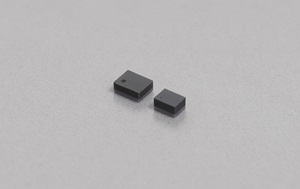 Left: New SAW duplexer Left: New SAW filter
Right: Conventional SAW duplexer Right: Conventional SAW filter
Realizing Characteristics Equal or Superior to Those of Conventional Products
By leveraging its own design and miniaturization technology, Murata has achieved excellent characteristics while minimizing the degradation of characteristics associated with reduced size. The Products exhibit transmission*5 and isolation characteristics*6 equal or superior to those of conventional products. They are also among the first such products to realize improved power durability that meets the higher power requirements that will be required by future smartphones beginning with those being developed for use with the 5th generation mobile communications system (5G).
*5 The degree of transmission loss between the antenna and the transmitting/receiving circuits
*6 A characteristic that separates the filtering functions for transmitting and receiving in duplexers
A Lineup Covering the Major Frequency Bands
The lineup includes products compatible with the major frequency bands of the frequency band classification standard defined by the standardization organization 3GPP*7.
Lineup and supported frequency bands
SAW duplexer
SAW filter
Band
P/N
Band
P/N
1
SAYAV1G95BA0F0A
1
SAFFW2G14AA0E0A
2
SAYAP1G88BA0C0A
2
SAFFW1G96AA0E0A
3
SAYRV1G74BC0C0A
3
SAFFW1G84AA0E0A
5
SAYRV836MBA0F0A
5
SAFFW881MAA0E0A
7
SAYRV2G53BA0E0A
7
SAFFW2G65AA0E0A
8
SAYRV897MBA0C0A
8
SAFFW942MAA0E0A
20
SAYAP806MBA0C0A
40
SAFFW2G35AA0E0A
41
SAFFW2G59AA1E0A
GNSS
SAFFW1G56AA0E0A
ISM2.4GHz
SAFFW2G45MA0E0A
*7 An acronym of Third Generation Partnership Project, a standards organization that studies and develops the standard specifications of mobile communication systems for 3G and beyond.
Murata will expand this product lineup to support major communications bands between 700MHz and 2.6GHz by the end of FY2019. The company is also developing products compatible with the sub-6 GHz and the 3GHz to 6GHz bands that are expected to be used in 5G. Murata will continue developing smaller products that meet the needs of the market and of its customers, in order to contribute to saving space on electronic circuit boards and facilitating high-density circuit design.
Other Technical Information
In the communication environment based on the 4th generation mobile communications system (4G), the range of frequency bands that smartphones need to support has increased, while new wireless technologies designed to improve communications quality such as carrier aggregation*8 and MIMO*9 have been developed. Moreover, the full adoption of 5G is expected to lead to more complex RF circuits that will play a role in both transmission and receiver.
The Products are discrete devices equipped with a single duplexer or filter function. Premium smartphone models that are required to be compatible with a large number of frequency bands employ small modules that incorporate multiple SAW devices corresponding to different frequency bands in a single compact package. In future, Murata will work to further reduce the size of these modules by harnessing the proprietary design and miniaturization technology employed in the development the Products.
*8 A technology for improving communication speed by combining multiple carriers into one data channel
*9 An acronym of multiple-input and multiple-output, MIMO improves the speed of communication by employing multiple transmitting and receiving antennas.
Source: https://www.murata.com/en-us/products/info/saw/saw_mobile/2019/0716
Subscribe
Stay up to date with industry and supplier news!
Browse