Meet the New Digi XBee® RR Family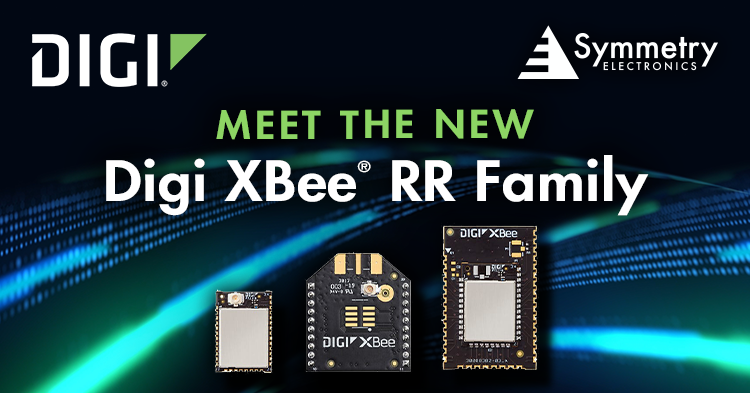 The new family of Digi XBee® RR products from Digi International, averaging half the lead time of other competitors, offers the ideal solution for redesigns and new projects. Designers, OEMs, and solutions providers can conveniently accelerate time-to-market through pre-certified Digi XBee RR wireless modules. These new modules are compact, low-power, flexible solutions in a small footprint that offer frequency and wireless protocol switching.
Compatible with existing Digi XBee® designs, XBee RR modules provide 2.4 GHz for mesh networking with Zigbee, 802.15.4, and the DigiMesh® protocol. Digi XBee RR modules are secure solutions that offer more than 175 security controls for data protection. Additionally, Digi XBee RR's micro form factor (13 mm x 19 mm) enables increased opportunity for compact and portable application development (Figure 1).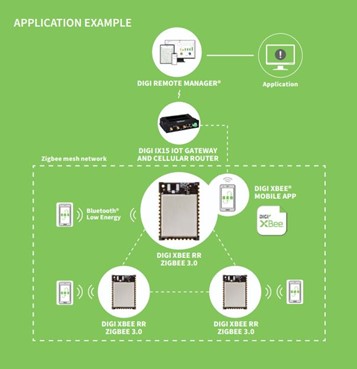 Figure 1: Digi XBee RR application example
Digi XBee RR Key Features
Digi XBee® (Zigbee®, DigiMesh®, 802.15.4), BLE and RS-232/485 for connection to local devices
Built-in Digi TrustFence® for device security, device identity and data privacy
Digi XBee RR Capabilities
Connects easily to the Digi IX15 IoT gateway and router so you can configure, monitor and control your network with Digi Remote Manager®
Part of the Digi XBee Ecosystem which includes software, gateways, cloud connectivity and deployment tools – for rapid development, deployment, and lifecycle management
From edge computing to future migration, Digi XBee RR wireless modules offer size, weight, power and performance advantages ideal for scalable device connectivity
Offers excellent pin-compatibility with existing deployed XBee devices for easy integration
Rapid redesign services are available from Digi Wireless Design Services for fast time-to-market
Key Applications
Automation
Smart Energy
Digital Health
Intelligent Lighting
Portable Applications
Digi XBee Wireless Modules
| | |
| --- | --- |
| Part Number | Digi XBee RR |
| XBRR-24ACM-J | Digi XBee RR, 2.4 Ghz, 802.15.4, Chip Ant, MMT |
| XBRR-24Z8CM-J | Digi XBee RR, 2.4 GHz, Zigbee, Chip Ant, MMT |
| XBRR-24Z8PS-J | Digi XBee RR, 2.4 GHz, Zigbee, PCB Ant, SMT |
| XBRR-24Z8PT-J | Digi XBee RR, 2.4 GHz, Zigbee, PCB Ant, Through-hole |
| XBRR-24Z8RM-J | Digi XBee RR, 2.4 GHz, Zigbee, RF Pad Ant, MMT |
| XBRR-24Z8ST-J | Digi XBee RR, 2.4 GHz, Zigbee, SMA Ant, Through-hole |
| XBRR-24Z8UM-J | Digi XBee RR, 2.4 GHz, Zigbee, U.FL Ant, MMT |
| XBRR-24Z8US-J | Digi XBee RR, 2.4 GHz, Zigbee, U.FL Ant, SMT |
| XBRR-24Z8UT-J | Digi XBee RR, 2.4 GHz, Zigbee, U.FL Ant, Through-hole |
Digi XBee Pro RR Wireless Modules
| | |
| --- | --- |
| Part Number | Digi XBee RR |
| XBRR-24ACM | Digi XBee RR PRO, 2.4 Ghz, 802.15.4, Chip Ant, MMT |
| XBRR-24DMUM | Digi XBee RR PRO, 2.4 GHz, DigiMesh, U.FL Ant, MMT |
| XBRR-24DMRM | Digi XBee RR PRO, 2.4 GHz, DigiMesh, RF Pad Ant, MMT |
| XBRR-24Z8CM | Digi XBee RR PRO, 2.4 GHz, Zigbee, Chip Ant, MMT |
| XBRR-24Z8PS | Digi XBee RR PRO, 2.4 GHz, Zigbee, PCB Ant, SMT |
| XBRR-24Z8PT | Digi XBee RR PRO, 2.4 GHz, Zigbee, PCB Ant, Through-hole |
| XBRR-24Z8RM | Digi XBee RR PRO, 2.4 GHz, Zigbee, RF Pad Ant, MMT |
| XBRR-24Z8ST | Digi XBee RR PRO, 2.4 GHz, Zigbee, SMA Ant, Through-hole |
| XBRR-24Z8UM | Digi XBee RR PRO, 2.4 GHz, Zigbee, U.FL Ant, MMT |
| XBRR-24Z8US | Digi XBee RR PRO, 2.4 GHz, Zigbee, U.FL Ant, SMT |
| XBRR-24Z8UT | Digi XBee RR PRO, 2.4 GHz, Zigbee, U.FL Ant, Through-hole |