MediaTek MT2523D Highly Integrated and Efficient Chip With Power Management Unit and Dual-mode Bluetooth is Ideal For Your Next Wearable Design
As microprocessors get ever smaller and more power efficient, smart devices will penetrate our lives like never before. MediaTek is on the forefront of creating platforms for intelligent wearables, watches, trackers, home and office appliances, connected facilities, utilities and more.
This will allow a revolution of connected devices, giving people and businesses the ability to track, manage and control their environments in a way that they never before had access to, allowing better understanding to improve their lives via better usage, performance and power efficiency.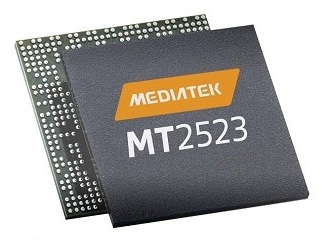 Part of the MediaTek MT2523 product family, is a highly integrated chip that contains a microcontroller unit, dual-mode Bluetooth and a power management unit.
The microcontroller unit is an ARM Cortex-M4 processor with FPU, integrated with 4MB PSRAM and 4MB flash memory. MT2523D also supports a wide range of interfaces including UART, I2C, SPI, I2S, PWM, SDIO, MSDC, USB, PCMIF, ADC and dual digital microphones.
MediaTek Labs offers developers the MediaTek LinkIt™ Development Platform for RTOS, an IoT development platform for the creation of a wide variety of Wearables and IoT devices.
These devices include connected appliances, smart home devices, smart gadgets, IoT bridges, wearables, smartwatches and smart wristbands. The LinkIt Development Platform for RTOS offers the convenience of a single toolset and common APIs implemented over a popular RTOS. With this, you can achieve economies across a full range of IoT devices.
Features:
Flash:4MB
Memory:4MB+160KB
SDK:Yes
CPU Frequency:208MHz
CPU Core Count:Single (1)
CPU Type:ARM Cortex-M4 with FPU
For additional MediaTek product information or technical support, contact Symmetry Electronics, and authorized distributor of industry leading wireless, audio/video and embedded chips modules and development tools, call (877) 466-9722.
Why partner with Symmetry Electronics? Symmetry's technical staff is specially trained by our suppliers to provide a comprehensive level of technical support. Our in-house Applications Engineers provide free design services to help customers early in the design cycle, providing solutions to save them time, money and frustration. Contact Symmetry for more information.