Lantronix G520 Series
Next-Generation IoT Cellular Gateway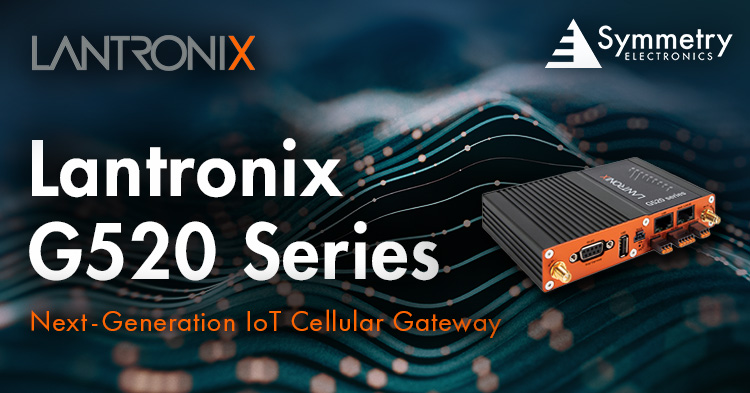 Backed by their over 30 years of expertise working with ruggedized cellular communications for M2M and IoT applications, Lantronix has released their award-winning G520 Series of IoT Cellular Gateways. Designed to support diverse use cases in industry 4.0, security, and transportation, the G520 Series offers the following key features:
High-speed LTE and 5G support
Fieldbus protocols conversion suite
Industrial-grade, compact design
InfiniShieldTM secure crypto element
G520 Key Benefits
The G520 Series is designed specifically for industrial applications with Ethernet, Serial, I/O, and protocol conversion suite. Connect virtually any factory equipment vehicle using fieldbus protocols and CAN Bus to experience the following benefits:
Measure and report how equipment and machines are performing.
Aggregate real-time performance data to improve operations performance.
Connect devices from multiple suppliers, monitor production and control equipment.
Predict problems and maintenance requirements before they occur.
G520 Available Variants
The G520 IoT Cellular Gateway supports three key use cases:
G520 Industrial
Specs: LTE Cat 4 Ethernet, Serial, I/O, Fieldbus conversion and other industrial protocols.
Applications: Industry 4.0, Energy Management, Smart Factory, Industrial Automation.
G527 / G528 Security
Specs: LTE Cat 13 & 5G, Built-in cryptographic secure element and PSE-PoE.
Applications: Surveillance CCTV, Public Safety, Supply Chain, Government Facilities.
G520 Transport
Specs: LTE Cat 4, GNSS, accelerometer, CAN Bus reading, and other tracking features.
Applications: Emergency and Commercial Vehicles
Lantronix Software Services Lantronix offers their ConsoleFlowTM, comprehensive, cloud-based asset management platform and global Connectivity Services for cellular data plans and VPN security and the management of SIMs and services.
Learn More About the G520 Series