From Digi: "Kinetic Creates An Innovative Wearable That Reduces Workplace Injuries And Increases Safety Using Digi IoT Solutions"
Kinetic is a pioneering innovator in workplace wearables that improve worker safety, prevent injuries, and decrease associated costs. The company's flagship REFLEX™ hip-mounted device, which includes the Digi ConnectCore® 6 single board computer at its core, detects poor posture that can cause injuries and provides workers with feedback. The device also provides managers with aggregated statistics on employee compliance and sources of risk.
BUSINESS CHALLENGE
Each day in workplace settings across numerous industries, workers are constantly putting their bodies at risk by improperly lifting, twisting, and turning. The fact is, suboptimal biomechanics, such as incorrect posture and motion, can lead to back injuries, strains and sprains. These are the most frequent and costliest injuries in industrial workplaces, as they have enormous impact on worker productivity and workplace injury claims.
According to Kinetic Co-founder and CTO Aditya Bansal, the consequences can be significant for employers and employees alike. "When workers deviate from the best-practice protocols for their posture, lifting, and movements, it most often leads to preventable injuries," he said. "That means employers deal with more worker compensation claims, medical issues, employee absenteeism, and other costly issues. We recognized there was an opportunity to provide real-time coaching to employees that helps them remember and apply the techniques they've learned to properly move and lift."
SOLUTION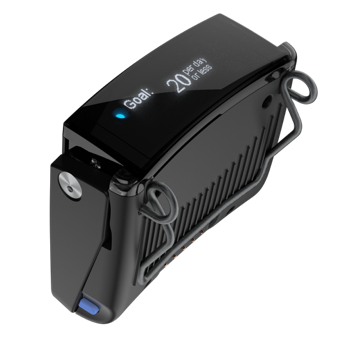 To meet this opportunity, Kinetic created REFLEX, a smart device that is about the size of a cell phone or pager, and is worn on the belt or waistband. Using sensors and biomechanical analysis, REFLEX determines when workers are moving with correct posture. REFLEX also automatically detects high-risk postures and provides workers with feedback, in the form of a light vibration, whenever high-risk motions occur. Over time, workers can use REFLEX to improve their biomechanics, resulting in fewer injuries and improved well-being.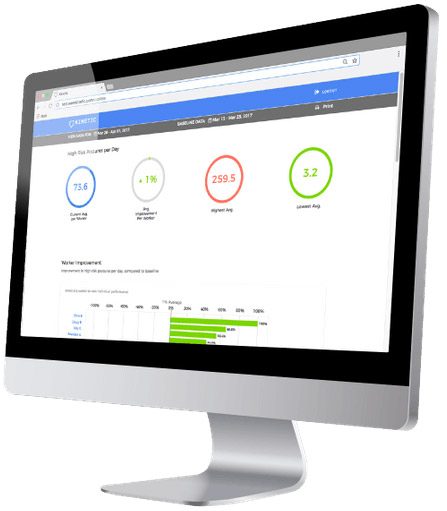 In addition to the wearable devices, the REFLEX solution also includes the KINETIC dashboard, which provides fast, actionable feedback. Each REFLEX unit in the workforce automatically syncs to the KINETIC dashboard at the end of each shift, presenting timely visual analyses, summaries, and risk profiles of workers' safety habits.
The heart of the Kinetic REFLEX solution is Digi technology, including its ultra-compact, versatile ConnectCore 6 single board computer (SBC). The Digi ConnectCore 6 significantly reduces time to market by virtually eliminating the traditional risk, effort, and complexity of custom board designs without sacrificing flexibility or capabilities. Built on the ConnectCore 6 module, it provides a common platform with scalable NXP i.MX6 performance, pre-certified Bluetooth 4.0 and Wi-Fi integration, and cellular connectivity options, Gigabit Ethernet support, multi display, and reliability in harsh environments.
"Digi ConnectCore is very small and power-efficient, so it fits nicely in our device," said Bansal. "And it's well suited to the rugged environments where we're deployed. We received extraordinary assistance and technical support from the Digi team. We're very pleased to have a successful long-term relationship with Digi."
RESULTS
On the factory floor or warehouse dock, the battery-driven REFLEX reduces risk by teaching workers to use good biomechanics when moving, bending and lifting. "REFLEX measures the number of unsafe postures workers perform per day," said Bansal, "By using personal goals, daily and weekly metrics, and even a little friendly competition, we can encourage workers to reduce unsafe postures and create better work habits. In fact, using the REFLEX, one of our customers' employees reduced his unsafe movements from 320 per day to just 12 – largely in a self-directed manner."
Kinetic works with customers in the manufacturing, warehousing, transportation, construction, energy, and public-safety sectors. Companies that have piloted with KINETIC have reduced unsafe postures by 34 to 84 percent, which means workers are safer on the job, and less likely to experience injuries.
Source: https://www.digi.com/customersuccesses/kinetic-wearable-reduces-workplace-injuries