An Introduction to the Embedded Antenna Design (EAD) LCO7270 Multiband Omni Antenna
Monday, September 29, 2014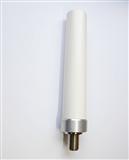 Embedded Antenna Design (EAD) recently announced the LCO7270, a groundplane independent 4G/LTE multiband omni antenna covering 690-2700 MHz i.e. 4G, LTE, 3G and GSM/Cellular frequencies.
Housed in a weatherproof Luran sheath with a passivated aluminium base, the LCO7270 is groundplane independent and doesn't need a metal surface to operate effectively. With gain of 2 dBi across the bands, the radiation pattern is omni-directional making it suitable for both fixed and mobile applications.
Unlike other compact omni antennas that require a groundplane, the LCO7270's ability to be mounted in free space or on non-metal surfaces and enclosures is a tangible advantage. The antenna can be fitted with a number of connectors including N-Female Bulkhead (for stud mounting where a smaller mounting hole is required or where there is less real estate inside the enclosure), N-Male, TNC-Male, RP-TNC, SMA, and RP-SMA. There is also an option for a wall-mount version using a stainless steel L-Bracket.
Initial samples will be available by the end of September and production orders are expected to start being fulfilled by the end of the second week in October.
Features:
Covers 4G, LTE, 3G, GSM & Cellular bands
Stud, Connector or Bracket mount
Groundplane Independent
Wall-Mount version available
Suitable for fixed or mobile applications
Specifications:
Radiating element: 1/2 Wave Element
Frequency range: 690-960/1710-2700 MHz
Gain: 2 dBi
Impedance: 50 Ohm
Polarization: Linear
VSWR: < 2.5:1
Power rating: 10W
Connector: N-Female (others possible - N-Male, TNC, SMA, RP-SMA)
Materials: ASA Luran Sheath, Alumimium base
Dimensions: 159x 34mm (excl. connector)
Ordering Options:
LCO7270-NFB-ST: LCO7270 antenna N-Female BLK Straight connector
LCO7270-NM-ST: LCO7270 antenna N-Male Straight connector
LCO7270-WMB: LCO7270 antenna with Wall-mount L-Bracket N-Female connector
For more information regarding the EAD LCO7270 or any of EAD's other products, please call Symmetry Electronics at (310) 536-6190, or contact us online.
Subscribe
Stay up to date with industry and supplier news!
Browse