From Silicon Labs: Introducing the World's Most Scalable Automotive Radio Solution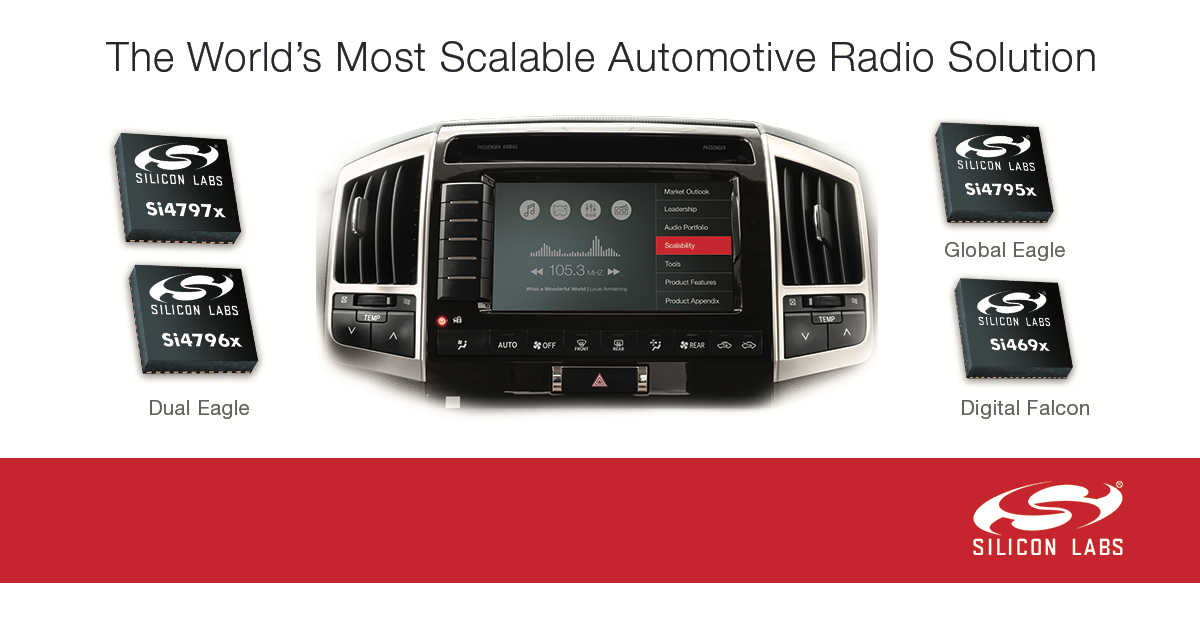 Silicon Labs recently introduced the industry's most scalable, flexible and cost-effective car radio solution for the global automotive infotainment market. Their new portfolio of Global Eagle and Dual Eagle AM/FM receivers and digital radio tuners, along with the Digital Falcon coprocessors address all market segments and standards, and are ready to address the nearly 94 million-unit global light vehicle market.
These new devices represent the most scalable, flexible, and cost-effective solutions for car radios available for automotive infotainment systems and offer car manufacturers the ability to meet demands across markets while adhering to rigorous quality standards.
Today, substantial R&D investment is required to meet the needs of the wide range of markets and cost targets, and Silicon Labs is the only provider with a scalable hardware/software platform that makes it possible for car radio suppliers to address these disparate needs with a common radio hardware and software design, reducing design, qualification, sourcing, and inventory costs.
The Global Eagle (Si4795x) and Dual Eagle (Si4796x and Si4797x) families of analog AM/FM receivers and digital radio tuners set a new standard for scalability and automotive broadcast reception. The Eagle families extend the field-proven performance of Silicon Labs' tuners and receivers, which are deployed by leading automotive OEMs and Tier 1 suppliers worldwide. Si479xx devices leverage Silicon Labs' patented low-IF digital architecture, delivering superior RF performance and interference rejection. In addition, the Si479xx family's comprehensive firmware algorithms dynamically adjust signal reception in moving cars to ensure optimal reception under the harshest field conditions.
The audio subsystem of both Eagle families provides a complete solution to synchronize, process and distribute digital and audio signals in the automotive head unit. To accelerate time to market, Silicon Labs provides four- and six-channel audio post-processing reference designs supporting cabin equalization, loudness compensation, tone control, chime generation and audio source mixing. This flexible architecture enables integration of customer or third-party algorithms.
The Digital Falcon (Si469x) family of digital radio coprocessors provides channel demodulation and source decoding of HD Radio and DAB/DAB+ digital signals delivering audio and data. Digital Falcon processors simplify system design and minimize the bill of materials (BOM) by eliminating the need for an external RAM memory module for channel decoding typically required by third-party digital radio processors. The Digital Falcon family enables designs to scale from low- to high-end systems with its seamless blending capabilities for DAB/DAB+, as well as its support for Automatic Level and Time Alignment (ALTA) for HD systems.
For more about evolving needs of car radio design, check out this EE Times article by Silicon Labs' Alick Einav.
Contact Symmetry Electronics at 866-506-8829, email us or start a live chat and we'll be glad to help you with your radio projects!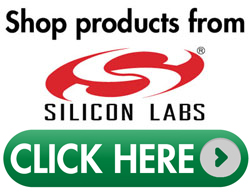 Why partner with Symmetry Electronics? Symmetry's technical staff is specially trained by our suppliers to provide a comprehensive level of technical support. Our in-house Applications Engineers provide free design services to help customers early in the design cycle, providing solutions to save them time, money and frustration. Contact Symmetry for more information.