Introducing the Nordic Thingy:91 | Symmetry Blog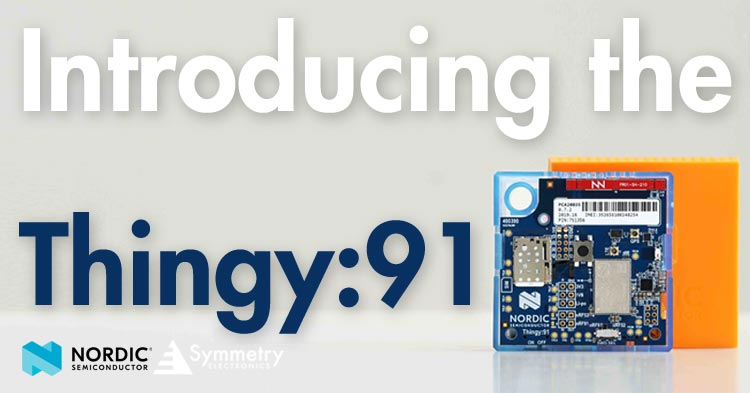 For any embedded systems developer, having an intuitive and all-encompassing development platform with all the necessary basic components is essential. This is what Nordic has introduced with their latest and greatest multi-sensor cellular IoT prototyping platform – the Nordic Thingy: 91.
All the hardware components are already integrated for you in a small form factor to quickly allow you to create your Proof-of-Concept (PoC) for any IoT application. This battery-operated board sports Nordic's latest nRF9160 SiP which supports LTE-M, NB-IoT, and GPS. For anyone familiar with Nordic's previous development platform, the Nordic Thingy: 52, the Thingy: 91 also sports the same wireless capabilities with its integrated nRF52840 SoC which supports Bluetooth 5.0 and NFC.
The Thingy: 91 also has a Nano/4FF SIM card slot and comes included with an eSIM to allow your prototype to operate remotely and be sending data to the cloud right away. The prototype board also comes with an array of integrated environmental sensors for motion, temperature, humidity, gas, air pressure, and light.
With the variety of both long- and short-range wireless protocols, not to mention its GPS capabilities, the Nordic Thingy: 91 is specifically suited for any low powered IoT application, such as asset tracking. It is all these essentials in this tiny battery-powered development board that makes the Nordic Thingy: 91 the most ideal hardware platform to bring your LTE or Bluetooth IoT concepts to reality.





Why partner with Symmetry Electronics? Symmetry's technical staff is specially trained by our suppliers to provide a comprehensive level of technical support. Our in-house Applications Engineers provide free design services to help customers early in the design cycle, providing solutions to save them time, money and frustration. Contact Symmetry for more information.