From Nordic: How to get production firmware version (v1.0.0) for nRF9160
The production firmware version v1.0.0 is released for the nRF9160.
- Release notes for the nRF Connect SDK v1.0.0 (NCS)
- Release notes for the Modem Firmware v1.0.0 (MFW)
cd ncs/nrf
git checkout master
git pull
git checkout v1.0.0
west update
Update the MFW to v1.0.0:
Note: 'nrf9160_mdm_dfu' tool is deprecated.
- Update to the latest 'nRF Command Line Tools'.
- Update to nRF Connect for Desktop to v3.0.0
- Make sure you have the latest version of the "Programmer" app:

- Open the "Programmer" app
- Select device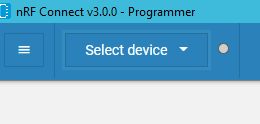 - Select "Update Modem"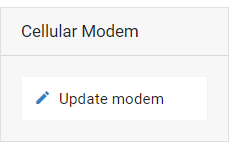 - Find the .zip folder 'mfw_nrf9160_1.0.0.zip' and select it:

- Hit the "Write" button.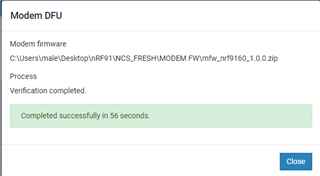 - Then you should get this message "Completed successfully in seconds"
You have now updated your modem to v1.0.0.
---
You can confirm that your modem version is updated by running the at_client sample in combination with "LTE Link Monitor" and sending the AT command: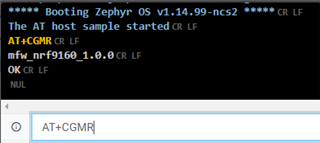 ---
Note that there is also released a new SES IDE version (v4.18) with several updates.
Please find the newest version from the download link in the "Getting Started Assistant" app:

Source: https://devzone.nordicsemi.com/nordic/nordic-blog/b/blog/posts/how-to-get-production-version-v1-0-0-to-nrf9160
Why partner with Symmetry Electronics? Symmetry's technical staff is specially trained by our suppliers to provide a comprehensive level of technical support. Our in-house Applications Engineers provide free design services to help customers early in the design cycle, providing solutions to save them time, money and frustration. Contact Symmetry for more information.