How is Silicon Labs' new Si86xx digital isolator family different from the Si84xx?
Silicon Lab's family of ultra-low-power digital isolators are CMOS devices offering substantial data rate, propagation delay, power, size, reliability, and external BOM advantages over legacy isolation technologies. The operating parameters of these products remain stable across wide temperature ranges and throughout device service life for ease of design and highly uniform performance. Recently a new generation of digital isolators, the Si86xx family, was introduced to expand and enhance Silicon Labs isolation portfolio.
As before, data rates up to 150 Mbps are supported, and all devices achieve propagation delays of less than 10 ns. Additionally enable inputs provide a single point control for enabling and disabling output drive. Ordering options include a choice of isolation ratings (1, 2.5, 3.75 and 5 kV) and a selectable fail-safe operating mode to control the default output state during power loss. All products >1 kVRMS are safety certified by UL, CSA, and VDE, and products in wide-body packages support reinforced insulation withstanding up to 5 kVRMS.
Si86xx Enhancements
The Si86xx family has several improvements over their lower cost drop-in compatibles Si84xx counterpart: Specifically the Si86xx family offers:
Reinforced insulation withstanding up to 5 kVRMS.
Improved regulator for 50x higher PSRR
Lower frequency oscillators for lower power operation and even lower EMI
Up to 6 isolation channels rated at 5kVRMS
Tighter receiver band pass for improved CMTI: 35kV/mS(min), 50kV/mS(typ)
Faster output buffer with exactly 50 ohm output termination for tighter output impedance matching
Minimum operating VDD = 2.5V
Schmitt trigger input for higher input noise rejection
Higher ESD rating: 8kV (HBM)
Figure 1 summarizes the enhancements.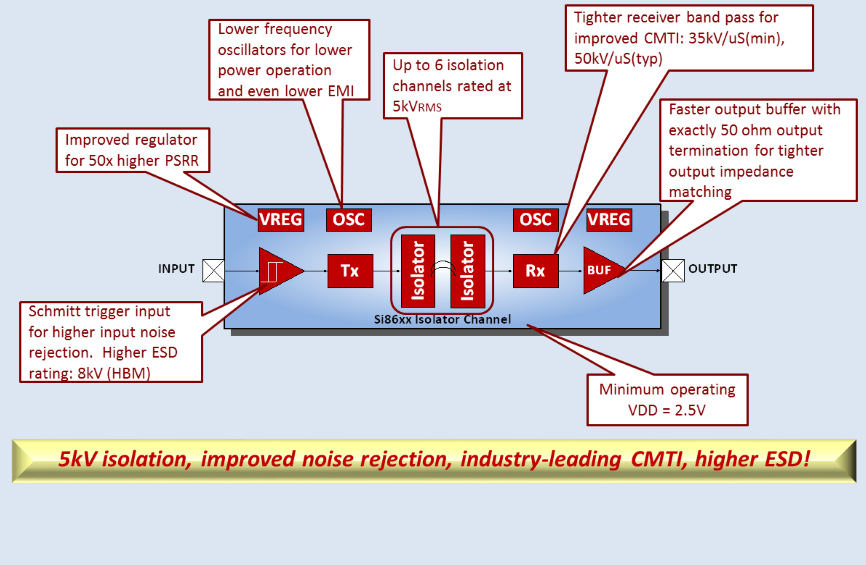 Source: http://community.silabs.com/t5/Everything-else-Knowledge-Base/How-is-Silicon-Labs-new-Si86xx-digital-isolator-family-different/ta-p/197176
Contact Symmetry Electronics at 866-506-8829, email us or start a live chat and we'll be glad to help you with your projects!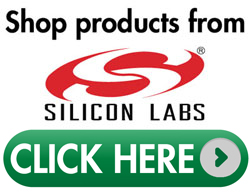 Why partner with Symmetry Electronics? Symmetry's technical staff is specially trained by our suppliers to provide a comprehensive level of technical support. Our in-house Applications Engineers provide free design services to help customers early in the design cycle, providing solutions to save them time, money and frustration. Contact Symmetry for more information.